MORE....of those sweet December Days!
Capt. Dave Sipler
December 19, 2012
Jacksonville - Saltwater Fishing Report

Literally, ever December I can count on like clock work. Slam dunking big fat Speckled Trout, true TROPHY sized fish.


I preach how much I love the month of November for all inshore fishing the First Coast area of Florida.


But I have to add in December too.


CHECK OUT MY GATOR TROUT VIDEO:

Although, Christmas is a good time. It's also when everyone is running around hilly-nilly. And the week of, is usually crazy time.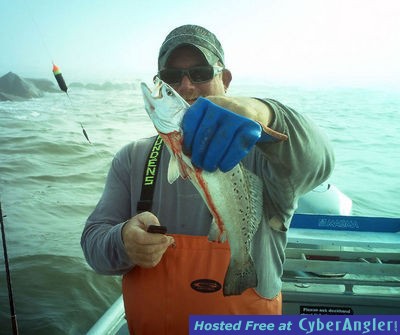 In December, although we have already had damn near 80 degree days. The weather can change in an instant. Which can effect the fishing and our ability to get on them....Because everyone has such crazy schedules.


Don't count me in on any crazyness. I'm rock solid. And am here to do ONE THING. Even when the weather turns cold and windy.
CHECK OUT THIS VIDEO, IN WINDY, COLD CONDITIONS:
Box, some sweetheart sized GATOR TROUTZ! Toss ina few Redbass, some Black Drum, a few Flatties. And "burn" live shrimp like match sticks.


Because I know what the heat of summer is like.
I AM NOT A FAN!!!
LET'S GO GET YOU SOME.

BEST DAY...2 PERSONS, FOR VERSATILITY. NO LESS THAN 6 HRS.
CALL 8AM-8PM TO RESERVE YOUR DAY ABOARD THE JETTYWOLF.
Check out my daily fishing reports:
www.captdaves.com
Jacksonville Fishing Forecast:

fishing is thru the roof!
Target Species:

ALL INSHORE SPECIES ON LIGHT TACKLE.
More Fishing Reports: