One of Those Days
Capt. James Howard
April 21, 2008
Jacksonville - Saltwater Fishing Report

Sunday the 20th was one of those trips you whish all your clients could have…..

We started off with great weather and I had a group of guys from up north that could fish and loved the water. I had a game plan to float fish for Trout on the high water and move to the creeks at the lower water to try the Redfish.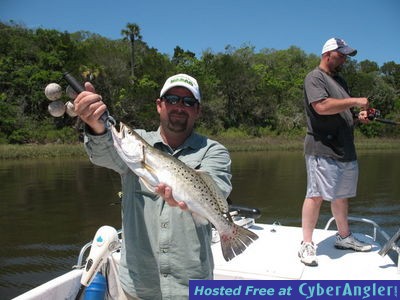 Well we never got to the Reds because the Trout and Drum just wouldn't quit eating. What a problem to have on a charter!!!


It was a 6hr trip that only took moving one time. That is a guides dream to fish only 2 spots in 6hrs and catch fish the whole time and there were plenty of nice fish in the mix.
We lost count on the Trout but we caught at least 2 dozen from 16 inches to about 4 pounds. We also mixed in quite a few Drum up to 20 inches . If I had to guess we caught at least 50 fish and a great time was had by all...


The water temp dropped back down to 66 degrees but didn't seem to bother the fish. I guess the fish know it is late April and time to start eating.
Thanks for a great time guys and I'll see you in a few weeks.
Till next time tight lines Capt. James Howard
(904)651-9557 Jacksonville Florida

Jacksonville Fishing Forecast:

Trout are a good bet right now. Lots of Drum also. Redfish are doing good at the lower water and a few Flounder also showing up.
Target Species:

Trout/ Redfish/ Jacks/ Flounder/Drum
More Fishing Reports: