About Time!!
Capt. James Howard
April 13, 2008
Jacksonville - Saltwater Fishing Report

Well a break in the weather this time of year equals a break out in the fishing. And that is exactly how my two charters went this past week………

Starting on Thursday April the 10th with Terry Newsome it was perfect weather and the float fishing was great every where I dropped the pick. We were float fishing live shrimp in 8 to 20 foot of water in the river. We came across some solid Trout including a stud 6 pounder and some nice Redfish.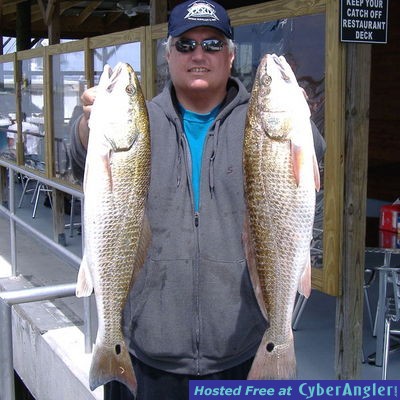 We also had several Sheepshead and black Drum mixed in. All in all it was abut 4 hours of solid fish catching. It was the kind of day I have been waiting for this month. I will have to add that Terry is a very good angler also.
Saturday the 12th with Jack Ward was a little different because the wind was blowing and a front was almost on top of us.
My game plan to fish the river like I did Thursday was not an option because of the 20 mph wind. We had to move a lot but did find some nice Yellow mouth Trout in a spot where we were out of the wind.


Jack had Redfish on his mind so we started hitting the creeks. The bite was very slow so I told him we should head to a spot that I was sure would be holding fish and just soak some crabs and hope for the best.
I don't like to sit in one spot to long but this day it paid off. We stayed there about an hour and a half to catch only four Reds but it was worth it. All the fish were in the 5 to 6 pound range. What a day. Thanks again guys for a great time.


Till next time tight lines. Capt. James Howard (904)651-9557
Jacksonville Florida

Jacksonville Fishing Forecast:

Big Trout are on. The Redfish will continue to get better and the Jacks are showing up also.
Target Species:

Trout/ Redfish/ Jacks/ Flounder
More Fishing Reports: