Seeing Red.....F-I-S-H, & more...?
Capt. Dave Sipler
November 2, 2013
Jacksonville - Saltwater Fishing Report

Well, we had a tiny little shot of coolness last week. But that still isn't enough to drive the Trout to the inlet.


And in the river the "little mouths" aka: Pinfish & Mangrove Snapper, (which I wish would all DIE) or pack up and move somewhere else is keeping us from catching any Trout on the hard structure that usually holds TROUT, this time of year.
So, it has me "SEEING RED"...instead.
Redbass, that is. Opps, I mean Redfish, Red Drum and toss in a few Black Drum also.
The little Croakers are everywhere, too. But I don't mind those hard fighting litl scrappers.
Because they also. B-A-I-T
From hard running and hard fighting Spinner Sharks and Blacktips, along with keeper size and way too big to keep Redbass. Everyone eats a steak of Croak'a.
What some take home to eat. We'll use for bait.
Here's just This weeks photo log:


JULIE & SCOTT ripped a new one, from morning till afternoon.
(and we even took a restroom break at noon)


DOUBLE-HEADERS!!!!!!!

MORE.....


BIG BLACKTIP ON SHIMANO TRANX 500PG, was killer FUN.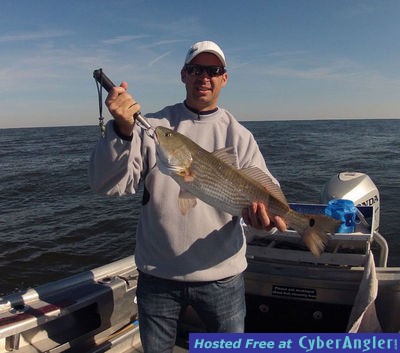 WELCOME TO MY WORLD, aboard the JETTYWOLF!


WWW.CAPTDAVES.COM
Since 1996, your full-time Jacksonville fishing Guide
-Light Tackle Near-Coastal Sport Fishing
My Youtube Channel:
www.youtube.com/user/BLM26CC
SUBSCRIBE to get notified of my newest Video reports

More Fishing Reports: