Spring is on the door step!!!
Capt. James Howard
March 30, 2008
Jacksonville - Saltwater Fishing Report

Even though we have a front sitting on top of us right now the last 3 days have been clear signs that spring has sprung!!!!!!
The nice Reds chewed great for my client on Thursday. We caught several fish on shrimp but it seemed like the crab was the ticket for the larger ones. We only fished 4 hours and caught 23 Red fish in the 3 to 7 pound range. I wanted to do some Trout fishing also but we just didn't have time. After fighting all those nice Reds he might have been a little spoiled anyway….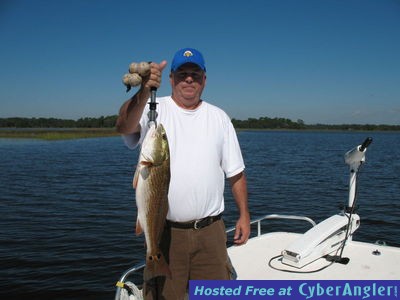 Trout are great to catch but they don't pack near the punch that a Red does.
Friday and Saturday were all float fishing for Trout which worked out great because there was a Red fish tournament in town. So I didn't even go to the creeks. We were in search of those larger spring Trout that should be on fire anytime.
Some people talk about float fishing for Trout like it is very complicated and they came up with the right way to do it. It is a little tricky at first but not that hard. And to the guy that talks like he invented it I was born and raised in Jacksonville and am 50 years old. My grand father and father float fished all the time and it still works the same as it did long before you were even born!!!!
Friday was all the big Yellow mouth you wanted. I was float fishing the river and the intercoastal. When I say big yellow mouth I mean these fish were all in the 3 pound range. Those are nice Yellow mouth by any standards. We ended up catching over 30 along with a few spec's and plenty of blues.
And then came Saturday. Same game plan but hoping to locate some of the larger Speckled Trout. Fishing deep water in the river with live shrimp on float rigs we did just that. Still not as large as they will be soon but we boated 19 in the solid 3 pound range. The last few days are showing signs of nothing but great fishing on the way in North Florida.
Till next time tight lines Capt. James Howard
(904)651-9557 Jacksonville Florida www.gofishjax.com

Jacksonville Fishing Forecast:

The Trout seem to be showing up and should be in good numbers and size. The Reds are chewing in the backwaters. A few Flounder and Jacks. The Blues are every where.
Target Species:

Trout/Reds/Blues/Flounder/Yellowmouth
More Fishing Reports: