two storms passed.....
Capt. Dave Sipler
August 29, 2014
Jacksonville - Saltwater Fishing Report

8/29/2014
Capt Dave's Sport Fishing
Jacksonville Fl
TWO PASSING STORMS LATER......
and all is still good in J-ville!
I'm sure more is to come. But I kinda like the every once in a while "cocktail" mixing.
That's what it's like, where I fish. One day after another of HOT, HUMID, and S.E. sea breeze, and rains between noon and 5pm can get a little boring.
Throw in a passing Hurricane or Tropical Storm here and there and at least we get a change in weather!
It'll be this way from here on out till at least late October.
The summer mixture basically remains the same, except if I happen to have days booked when a storm is doing it's "passing by".
Just the other day during Hurricane Cristobal's passing. The winds were up to Gale Force, and I had Dan G. booked from the DeeZee corp.
Well, fishing the inlet was out of the question. So for the first time since May, I bought LIVE shrimp, and we went down river and fished the shallow rocky shorelines. Pitching "jig-n-shrimp" combo meals the two of us caught Jacks, Ladyfish, small Reds, Mangrove Snappers up to 14", and these 22" Speckled Trout.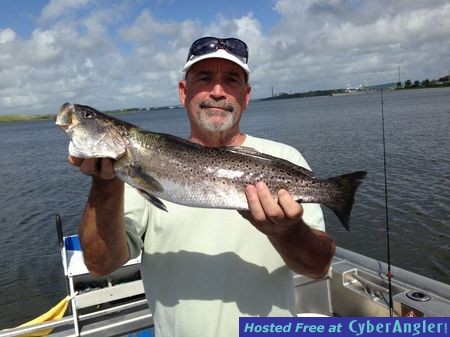 Not bad, not super great. But different from fishing the inlet's jetty rocks. We had a beautiful day. It was just super windy.
Thank goodness I wasn't booked doing the "party boat thing" with say 3 adults and a 6 year old!! That may have been a different story by days end.
Here's some other Mayport Jetty catches lately...

Then there's Video of some of the past trips:
HOT JETTY SUMMER ACTION: http://youtu.be/51LhWNV_gUU
RUN & GUN SHRIMP BOAT SHARKIN': http://youtu.be/MI57BV1yYW4
HURRICANE CRISTOBAL PASSING?: http://youtu.be/j2WVRXdVu_4
More Fishing Reports: