UNBELIEVABLE, Trout fishing.
Capt. Dave Sipler
January 3, 2013
Jacksonville - Saltwater Fishing Report

If there's one fish I love to chase, it's big Trout...most everyone knows that. I like them so much I'm willing to move to get more in the fish box.
(because Florida regs suck)
So, since my last report, I probably have a ton of photos to share, and a few Stories.

Let's see, I had 4 guys on my boat in Dec. and we boxed over 30 Trout with each having his over 20 incher in the box. That's their limit PLUS mine!!


Then, I went out in the super fog, and released back five, 21" to 27 inches at 8 pounds. All because of Florida regs, and boxed my six keepers with a 24 incher by 9:30 am at our inlet.
WATCH THE VIDEO HERE: http://youtu.be/v8W-M-nmmw4


8 pounder, at 27" plus
I had a fella and his son who were so humble. They told me we don't catch fish, although we love to fish. Can you help us?
Yeah I did, he dropped a 21 and 25 inch Trout into the net on a wicked Full Moon, along with his son adding to the box with a total of 10, on a day that was so TIDALLY terrible!

It's been great since this past summer. ALL BECAUSE of Buryl and Debby.."who were they you ask?"
The two tropical storms that passed by this past summer and gave ius what this WAY TOO salty area needs..FRESH water. I did great with all trips this past summer and had a feeling it would continue.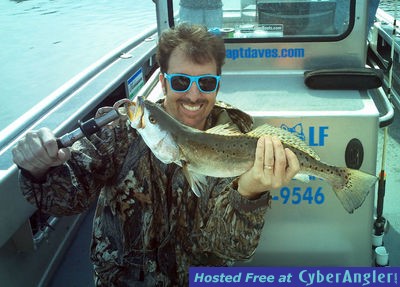 N.E. Florida's, St. Johns River is dead slow without massive rains. I love summer tropical storms!!


Toss in some Light Tackle Redfish, a few Bonita even at the inlet, and some Flounder and Sheepshead and there ya have it.


One GREAT winter season. SO FAR.
Be sure to check my "daily blog reports" at www.captdaves.com -CLICK fishing reports at top of page.
SUBSCRIBE to my YouTube channel:
www.youtube.com/user/BLM26CC?feature=mhee
That's www.captdaves.com, light tackle sport fishing aboard the big alloy boat!

Jacksonville Fishing Forecast:

PLAN - RESEARCH my REPORTS - CALL - OR EMAIL
Target Species:

Inshore LIGHT TACKLE species.
More Fishing Reports: