11/29 - While you sat drinking coffee next to the fire, bored to
Capt. Dave Sipler
November 30, 2013
Jacksonville - Saltwater Fishing Report

You could have been out on a day filled with catching and adventure!
Seeing it was ""USUALLY"" the #1 day of the year besides 4th of July in the 110 degree heat for all charter fishing, in bazzaro world, Florida You would have not know it by the looks of the weather. And of course, the pre-date calls, I hadn't received, all week.
Yeah, I was lucky. If you look at it that way, to have had the same "crew(s)" I had booked this week last year in the chilly, but sunny, calm TROUT FILLED, weather.
Obviously you read the report below this one about Ed, Ronny & I (on my daily reports blog at: www.http://blockurl99.blogspot.com/)doing a hour and a half charter on Tuesday before it rained buckets on us. Catching one nice trout before hitting the dock, all wet.
Well today, the day after Thanksgiving. I had The Walters, plus one. Dan, Scott's brother along this time, with of course dad.
Yep, the standard manly trip...."because today you had to be!" If not prepared, like a Boy Scout.
Here I am, at the dock, "YOUR CHIEF EAGLE SCOUT", ready to rock & roll!!!


At First Light, I was greeted at the dock by the ole saying; "Red sky in the morning Sailors, take warning. But it didn't scare me or my crew".


Certainly, not a uncommon appearance to the sky, this time of year. Kinda, S.O.P- standard operating procedure! And like Dr. Phil says on TV........"THIS AIN'T MY FIRST RODEO"
It was dead calm. And basically a "here's yer sign" to what's in store. It was chilly...But not frigid. The water and the Coast is always warmer than a Walmart parking lot on the BFE side of town. Us "coastals" are lucky that way, in the winter.
I had ONE plan in mind. Go to the last place I've seen a "LIVE" Trout. So the boat ride wasn't long. But I should attempt to at least mimic last years TROUT slaughter with the Walters, again this year.
Right?? It's the least I could do.
So upon arrival. The first several Trout bit, and jumped into the fish box within a few minutes!


This is "no throw-back bank"...there's a period of time along this area that there won't be a single non-keeper Trout caught. So I was very happy because we already did better than I thought we would and we're only a hour into the day!
These fish weren't monsters....But in Capt Dave's terms (that's me) they were "sweethearts"....near and dear to my heart/soul and well being. Seeing I could live happy the rest of my life with over flowing fish boxes of fish like these, caught all kinds of ways.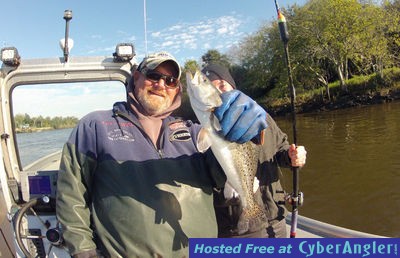 The box filled up quite nicely as the tide faded away. And we only lost maybe twenty minutes by being visited (another name for inconvenienced by the FWC) with just short of a colonoscopy!! By one of the states finest. At that tide, we probably only lost out on 3 additional Trout for the fish box and nine fillets for the dinner table.
I brought just enough live river crickets (aka: shrimp) to do the job for the morning. Because once we re-entered the wilds of the river by 10:30am, the winds were a HONKIN'.
We went to the Jetties. It wasn't bad. But the sea spray from the northside of the north was quite good as we sat and caught a few Whiting for the fish box. And NO croakers for Redbass cutbait. Which was the plan. Using fresh dead shrimp I had left over from Tuesday's failed wet charter.


Then, I tried anchoring at the little jetties after we watched 3 guys in a 23' center console up against the rocks, with twin outboards wrapped up in the anchor line....."what a FUBAR that was!"
Trying their best to hold the boat off the BOULDERS as one guy was untangling and cutting the anchor line off TWO props. I offered a hand, by pulling them away from the rocks. But they seemed to have it somewhat under control. Got away from the rocks and later anchored in the I.C.W. and then later...motored away. With the boat owner probably needing to change his "Fruit of the looms".
They probably would have fared a bit better scratch and scrape wise in a USDA grade ALLOY boat.
(But, I'll remain a rogue ranger of the alloy world, till I'm dead and gone, before people wake up to the fact that ALLOY is perfect for our environment around here. Just NOT Alaska. As so many seem to falsely believe.)
Either way, I couldn't stay anchored at the Little Jetties as the wind was in full 25 knots regalia, out of the Northeast. So I went and tried the other side of the river. And we caught a handful of Yellowmouth Trout, worthy of being dropped into the fish box. To add to the Whiting and Specks, we had.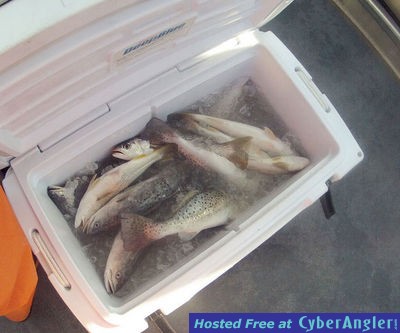 I could have took many more photos, I know. But under the circumstances I was a tad busy, pressed for time, and going through Bazzaro world anchoring frustrations. Which leads to less time to get all artsy fartsy, as I'm known for. But less winds make it much easier to play shutter-bug, or videographer.
I predicted many many weeks ago; That it'll be at least Thanksgiving before we see any serious Trout numbers to the east where the Jettywolf roams this time of year.
I may have been correct. A few more trips will be proof or not.
So, given that this IS the time of year to "don thy float-rigs", large amounts of live shrimp, best fishing outerwear, I expect to hear from ya.
And prior, you'll need to purchase some Peanut Oil or Canola Oil, a black cast Iron skillet, and some Zaterains Country fish fry mix.
Because, the Redfish, Trout, Yellowmouth (weakfish), and Sheepshead along with Black Drum on the bottom will be the only thing on my mind..


Don't you want to fish with a fishing guide that loves fishing in the winter, and will get you fish no matter what?? I don't deer hunt or watch football either!
Call: 904-642-9546 8am-8pm eastern time please.
Or email me at: [email protected] to check on dates for this holiday season.
www.captdaves.com - Since 1996, your veteran full-time Jacksonville area fishing Guide.
Jacksonville Fishing Forecast:

N-O-W..is the time to book your charter dates from here to after Jan 1st.
Get prime dates and tides.
Get best updated reports always at:
www.captdaves.com - click reports & video's!
Target Species:

ALL inshore gamefish species...bait nibblers are now scarce!
More Fishing Reports: