Best Fishing I've Seen for Awhile!
Capt. Scott Collins
March 9, 2016
Jupiter - Saltwater Fishing Report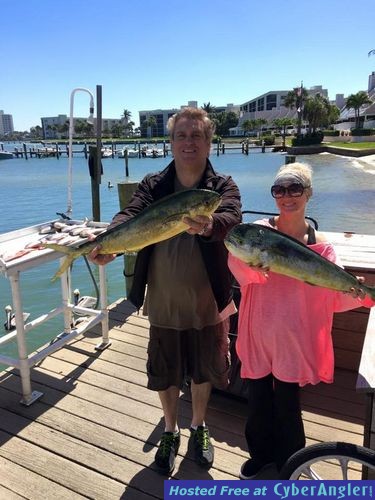 Prior to this front coming in, it was some of the best fishing I have ever seen out of Jupiter. On Saturday we were fishing with Mike from North Carolina. We got a work out keeping our baits in the water. After experiencing a wide open dolphin and wahoo bite. A sailfish jumped on the line. Then another hit, we missed them both. Beep Beep! Its not easy hooking them on the troll at times. On Saturday the bite was something special.
On Sunday morning fishing with Bill and his wife Allie, we started out with a sailfish release. Then found a couple of peanuts cruising the ledge. After a decent bite offshore we hit the ledge for some good bottom fishing. We found Muttons, yellowtails, and jumbo porgies. Its all good! Good fishing, good times, and good people. For booking information visit www.gettinluckyfishing.com. See you on the water.
Capt. Scott Collins
Gettin Lucky Sportfishing
Jupiter Fishing Forecast:

The bite will improve as the water temp warms
Target Species:

Wahoo, Dolphin, Sailfish, Snapper
More Fishing Reports: