Getting Action!
Capt. Scott Collins
June 20, 2016
Jupiter - Saltwater Fishing Report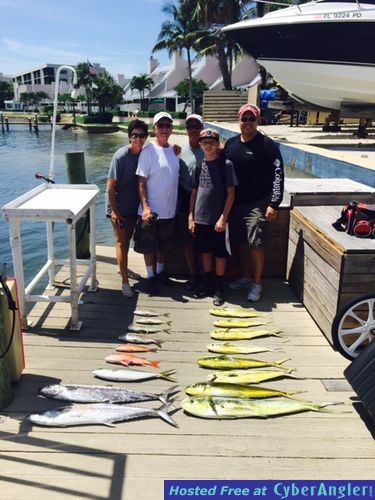 We went out the day before Fathers Day with Ben and Jay to experience a nice summer sailfish bite. The trip started it out with a double hook up with on bonitas. After arms on fire, a move produces a large swirl around the first bait out. This finicky sailfish circled the bait 3 times and couple bill whacks later this feisty little sail ate. Ben is on a nice little 40 pound sail. We quickly pitch another bait out to get Jay hooked up on one as well. After some nice angling and a few trips around the boat we go one for two on sails. The rest of the trip produces bonitas and some snappers.
Fishing in general has been good! There have been an insane amount of bonitas that have come into the edge. Its frustrating at times but there are some pockets of good fishing. Bottom fishing has been good for snappers. Snook fishing is good around the inlet and beach areas. Its a great time of year to be on the water. Visit www.gettinluckyfishing.com to get hooked up. See you on the water.
Capt. Scott Collins
Gettin Lucky Sportfishing
Jupiter Fishing Charters

Jupiter Fishing Forecast:

Dolphin fishing will pick up as water warms
More Fishing Reports: