Key Largo Backcounrty/ Inshore Reef Fishing 4/15/12
Capt. Bob Fernicola
April 15, 2012
Key Largo - Saltwater Fishing Report

Key Largo Fishing Update 4/15/12
The backcountry fishing in Florida bay has been very consistent this year and more fish starting to show in the past weeks. Still lots of action drifting over the grass flats in 2 to 4 feet of water with sea trout,pompano,
black drum, jacks and ladyfish. Fishing in the creek mouths this week we found snook,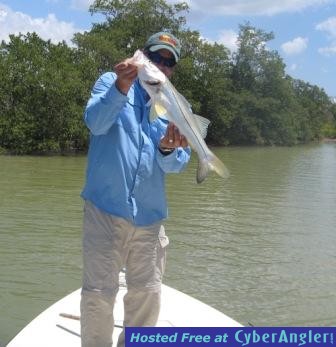 redfish,big trout and small tarpon. Shoreline casting has produced redfish,shark,snapper and jacks. Casting with 10 lb spin and baiting with Berkley gulps, shrimp and some top water plugs has kept the rods bending.
Fishing on the inshore rocks and reefs off key Largo has still been a great option for light tackle casting. Fast action with mutton,
mangrove and yellowtail snapper. Grouper both red and blacks on most all trips and hogfish as well.Macks are still around but slowing down a bit.
Shark
and big cudas
have been showing up in the past few weeks. Fishing inshore just a few miles out we stay in calmer water and don't have much travel time to the fishing grounds so a 1/2 day works well on this trip. Offshore we had a run of some dolphin up to around 20 lbs and some good school fish as well. Got offshore a few times in the past weeks and found some good school dolphin,Kingfish
,blackfin tuna Jacks and cudas.Big slammer Dolphin not in yet but should be any time now. Action offshore was close inside of 10 miles.
Tight Lines Capt. Bob
More Fishing Reports: