Key Largo Backcountry/Inshore Reef Fishing 2/27/12
Capt. Bob Fernicola
February 27, 2012
Key Largo - Saltwater Fishing Report

Key Largo Backcountry/Inshore Reef Fishing 2/27/12
Lots of trips in the last few weeks to the inshore reef and backcountry. This winter season here in the keys has been on the warm side,infact I cant remember in my 24 years living here in Key Largo such a mild winter. With the cold fronts lacking there kick the backcountry has maintained a higher water level in eastern Florida bay due to the lack of north winds associated with the cold fronts. Also the water temps are staying on the high side for this time of year. Shoreline casting has been good for redfish, snapper, and jacks. Sea trout are on the grass flats and the creeks are holding all of the above plus snook showing up as well. Finding the fish on the far end, about an hour boat ride. Lots of action on every trip, backcountry fishing has been very good. Due to travel time to productive fishing a 3/4 or full day is recommended.
Closer to home fishing the shallow reefs inshore has continued to provide good mixed bag action. Snappers mostly mangrove and yellowtails with a few muttons, grouper mostly gags but reds and blacks as well,hogfish,porgies,spanish and cero macks on most every spot we hit.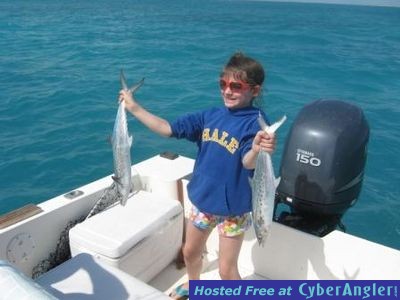 Several species of jacks, shark and cuda.If this warm trend stays with us we should start to see some pompano and permit on these spots. Fishing 12lb and 25 lb spin with shrimp, cut baits and live ballyhoo has provided action on all rods. For a 1/2 day light tackle trip with a good shot at big fish this one is hard to beat.
Tight Lines Capt. Bob
More Fishing Reports: