Key Largo Fishing Report 1/12/13
Capt. Bob Fernicola
January 12, 2013
Key Largo - Saltwater Fishing Report

Key Largo Fishing Report 1/12/13 Reef/Backcountry Fishing
Fishing in Key Largo this week was a bit on the breezy side with high winds out of the south east. Fishing beyond the reef line was way rough with seas 5 to 8 foot. Inshore reef had good conditions with a 2 foot chop and great action. Snapper bite was hot with nice size mangroves, yellowtails and hogfish.
Also in the mix we found macks,grouper,shark,jacks,pompano and cuda.Fishing with shrimp, cut and live ballyhoo the bite was fast.With Key Largo being the Home of John Pennekamp under water state park we have numerous reefs to fish just a short ride out.
Fishing the Backcountry out of Key Largo this week was also good but you had to pick your spots due to the wind and dirty water. Leeward shorelines and mangrove creeks kept us in the calm water and on fish. More snook this year then in the past few
.It looks like the snook are coming back better then expected after a hard cold front in Jan. 2009 killed many. Most fish are about 24"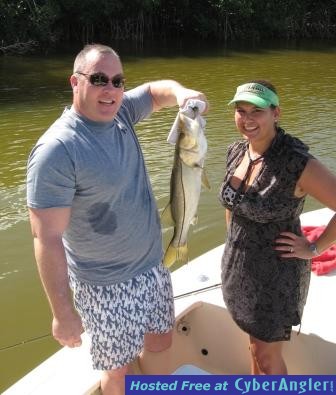 But also some bigger fish to 12 lbs around. We have been getting snook on most every trip in the past months and in decent numbers. Reds slowed up a bit from what it was but should move back to the shallows now that the wind is dying down. Lots of trout over the grass beds and some big gator trout( 24" plus) on the shorelines and in the creek mouths.Jacks,ladyfish and a few small shark were mixed in with the trout.
Tight Lines Capt. Bob
More Fishing Reports: