Key Largo Fishing Report 6/12/13/Offshore/Reef Fishing
Capt. Bob Fernicola
June 12, 2013
Key Largo - Saltwater Fishing Report

Key Largo Fishing Report 6/12/13/Offshore/Reef
After a rainy spell that started around the end of May it was good to get out this week and do some Offshore fishing. Dolphin was our target fish and we found them everyday this week.
Also mixed in there where decent Blackfin tuna and Bonita. Although the gulf stream is farther out then normally for this time of year there is still good Blue water and current rips close to the reef line. Most all fish we ran into where good sized from heavy lifters on up to solid gaffers.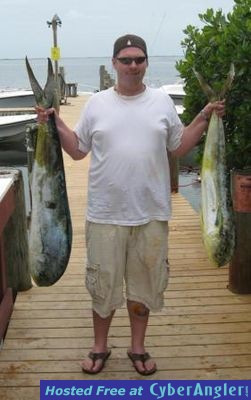 some scattered weed around but most of our fish came on birds and trolling the edge of slicks and current rips. Lures on flat lines and rigged ballyhoo off the outriggers worked equally well on the dolphin. Got on the reef this week and boated good yellowtails, mangrove and mutton snapper.
Snapper are starting to spawn this time of year and will concentrate at the reef line.
Also mixed in with the snapper there where cero macks on top with bar jacks,pogries,margates and a few hogfish on the bottom.
Tight lines Capt. Bob
305 451-3322
www.keys-backcountry-fishing.com/report.htm
More Fishing Reports: