Key Largo Fishing Report 4/7/14 Backcountry/ Reef /Offshore Fish
Capt. Bob Fernicola
April 7, 2014
Key Largo - Saltwater Fishing Report

Key Largo Fishing Report 4/7/14 Backcountry/ Reef /Offshore Fishing
March has past and we have had more cold fronts this month then we had all winter.Fishng in the Backcountry from Key largo to Flamingo has been a good bet for fast action and a decent species count. Casting shore lines and pot holes in the shallows we have found snook,
big jacks,
snapper and redfish.
Trout,pompano,ladyfish and jacks while fishing the shallow grass beds in open water.
Fishing the shallows on the warmer days, and hitting the creeks and channels on the cooler days has been keeping us on the fish. Cold front last week took a bunch of water with it, so the eastern bay is a bit shallow, little better this week. I think we can forget about anymore cooler days this year as fish in the backcountry will start there warmer water pattern and become more predictable. A few tarpon starting to show, should be more on the next full moon. Next few months looking good back there. Special thanks to Carl and the guys for dinner and reelin in all those snook.
Inshore on the reef action has held up casting to the rocks on light spin (12lb test) with knocker rigs and jigs.Varietys of Snapper and grouper,hogfish,jacks,porgies,shark,cuda Spanish and cero macks and other types of fish that call the reef home.
Fishing live ballyhoo (on 20 to 30 lb tackle) has bagged some nice muttons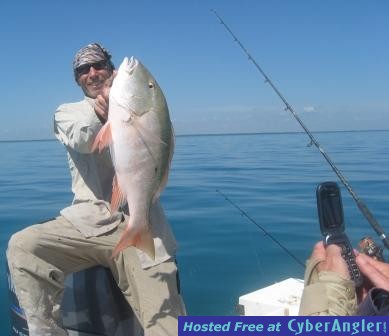 in the past weeks along with red and black grouper, Lemmon and blacktip sharks and some big cuda patrolling the patch.
Lots of ballyhoo in the chum line and fishing in water from 12 to 25 feet. calm seas on the inside and close to home make this a good option for 1/2 days. A bit farther on the reef line there has been pretty good yellow tailing with muttons and grouper on the bottom among other things) in 40 to around 80 feet of water. Grouper will open may 1 after being closed here in the keys since Jan. 1
Got on troll this past Friday and ran into double headers of black fin tuna on flat line lures several times with fish up to 10 lbs also found some school dolphin around 8lbs not to far out beyond the reef.
No birds scattered weed. Backcountry or Ocean side, From right now threw the next few months fishing in the keys is at its prime.
Tight lines Capt.Bob.......

More Fishing Reports: