Key Largo Reef Fishing/Backcountry Fishing 12/26/10
Capt. Bob Fernicola
December 26, 2010
Key Largo - Saltwater Fishing Report

Key Largo Reef Fishing/Backcountry Fishing 12/26/10
Cool temps here in Key Largo for the past 3 weeks or so has moved a lot of grouper to the inside reefs.
Gags,
blacks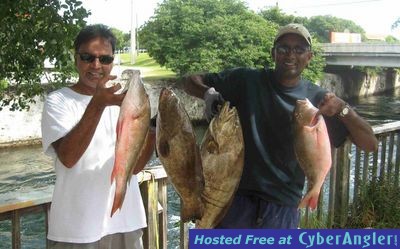 and reds
are in numbers and eating just about anything. Live ballyhoo, cut bait and shrimp got hit on every cast for the duration of our trip. Most fish were just short or just over but the action was great and we did get our limit. With the grouper we found hogfish,macks,porgys,snapper,yellowtails,jacks and shark. Water temps on the inside are in the upper 60s so no need to run out to the edge (about 70 deg) for action. Great trip rods bent the whole day and left them biting.
Backcountry around Flamingo has been a good bet as well. Redfish have found there winter holes and are in good numbers.Snook are also mixed in with the reds. Fishing the creeks and deeper spots has been the way to go. Trout bite remains good and will reopen Jan. 1 after a 2 month closed season. Some black drum starting to come in and this should get better in the months to come. This full moon has moved some small tarpon in spots close to home with fish up to 25 lbs.
Tight lines
Captain Bob...........
More Fishing Reports: