Key Largo Reef Fishing 11/17/10
Capt. Bob Fernicola
November 18, 2010
Key Largo - Saltwater Fishing Report

Key Largo Reef Fishing 11/17/10
What a welcomed change as the first cold front passed threw the keys last week. Winds out of the north pushed away the hot and sticky air that's been hanging on since summer. Inside reef fishing is coming into its own this time of year and that means short runs to the fishing grounds( half days work well) so more time fishing not running, lots of action and a list of species to long to write. Windy days may mean 4 to 6 foot seas or more outside the reef but fishing on the inside most days are 2 foot chop or less.Infact some of the most productive days are when the wind is kicking pretty good so this trip works well threw out the winter when its blowing most of the time.
Fishing with light tackle 10 or 12 test line in the past 2 weeks we got Mutton,mangrove,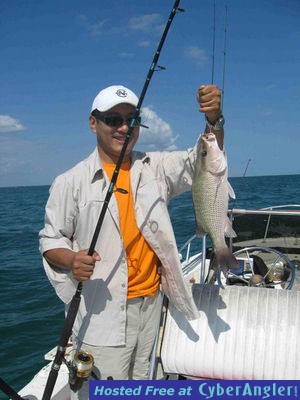 yellowtail and some big lane snapper.Macks both Spanish
and cero are around like every day.Hogfish,porgys and pompano have made a showing and even got into some small bonefish last 2 trips this week. Jacks are pretty much a sure thing with blue,bar,crevell and small ambers, jacks are not the best food fish but they are fun to catch and provide fast action. Some grouper are starting to show mostly reds but blacks should show up soon.Mabey on this next full moon.
While fishing hands on light tackle live ballyhoo are baited on heavy spin set in rod holders( 20 to 30 test line) and getting hit with bigger fish,muttons
,ceros up to 9 lbs,lemmon and blacktip shark,cudas
and African pompano to name a few. More cold fronts will pass threw the keys in the next 4 months and inside reef fishing will remain a good bet threw April.
Backcountry fishing in the eastern bay has been holding up, lots of big trout,jacks and ladyfish for action
and small tarpon around in local spots.A school of Black drum has been hanging around for the past 3 weeks
with fish up to 8 lbs.Lots of snapper in the creeks and a few snook, but snook are still slow. Redfish action and some bigger tarpon heading closer to Flamingo.
Tight lines
Captain Bob...........
More Fishing Reports: