Reef/backcountry Fishing late April update
Capt. Bob Fernicola
April 26, 2010
Key Largo - Saltwater Fishing Report

Reef/backcountry Fishing update 4/26/10
Lots of trips in the backcountry in the past weeks. Sea trout are the main bite in the eastern portions of Florida bay with some really nice fish up to 5 lbs.
and lots of them. Finding fish drifting over shallow grass beds, on shoreline points and in creek mouths. Mixed in are jack crevell,bluefish,ladyfish and a few blackdrum.Tarpon fishing is holding up with smaller fish close to home up to 40 lbs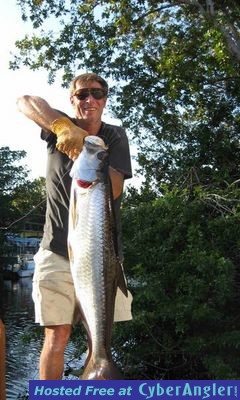 and some big giants far in the backcountry. More tarpon will show up with the next full moon. Lots of snapper in the creeks but still slow on snook.Reef fishing off key largo is doing well on the inside patch and in the deeper water as well. Assorted snapper,jacks,porgys,macks and hogfish both inside and in the deeper water. Deeper reef fishing has also produced some good size yellow tails, some big mutton snapper and grouper. This past week most reef trips stayed inside because of windy conditions. Grouper fishing will reopen May 1st after a first time 5 month closure. Snook will remain closed until Sept. this year as of now.
Tight lines
Captain Bob..

More Fishing Reports: