Jacob Morrow lands first Tarpon in 25-30 knot winds!
Capt. Dexter Simmons
March 6, 2012
Key West - Saltwater Fishing Report

The Fishing Report. March 6, 2011.


Jacob Morrow from Iowa caught his first Tarpon today in 25-30 knot winds! This was truly an exceptional feat given the very windy weather conditions. Congratulations Jacob!
PERMIT ARE MARCHING! Now that the March winds have arrived, one of our favorite species is migrating into shallow waters. Permit (trachinotus falcatus), the "Great Pompano", is one of the most elusive for fly anglers to catch. Known for their spooky nature in skinny water, the Permit has exceptional senses of sight and hearing tuned into its environment. The windy weather is actually favorable to fly anglers in fishing for Permit.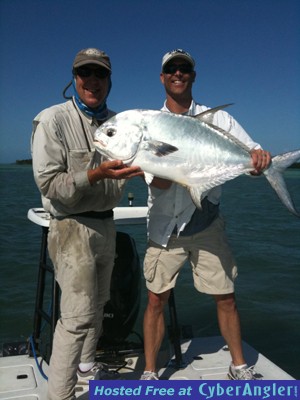 Most experienced Permit Fly Anglers hope for winds to approach 15 knots or more when Permit fishing. The Permit will be feed better in windy weather, as they are less able to see and hear the boat and angler.
Permit are on the flats in good sizes and good numbers, like this 19 pound beauty!


There are lots and lots of Permit showing on both sides of the Lower Keys, Key West and Marquesas flats. And most of them are this size or larger! Now that will change a bit as the schools of smaller fish invade the flats, however, there are lots of opportunities to hook up! If you are itching to complete that lifetime SLAM, call Capt. Dexter Simmons at 305-745-3304 or send me an email at captdexter@gmail.com. There are dates available in the next few months which is PRIME TIME FOR PERMIT!
Tarpon are laid up on the flats! Tarpon have migrated into the Lower Keys flats and are laid up in decent numbers in basins and channels.


If you would like to chase some Tarpon or Permit on the flats, call Capt. Dexter Simmons 305-745-3304 or send me an email to captdexter@gmail.com
I have some dates available during the next several months and whether you fish with me or not, rest assured I will be catching Permit and jumping Tarpon!
On cooler days, we are catching Barracuda, Jacks, Mackerel, Pompano, Sea Trout, Sharks, Snapper, Cobia... Soon, there will be Bonefish on the flats as warmer waters occur in the late winter and early Spring. Here is a picture of a Tarpon caught in February.
On warm days, resident Tarpon are wandering around on the flats and in channels, Bonefish are cruising on the backcountry flats, and Permit are migrating in from the reefs and wrecks to tail up on the flats. We are coming up on the absolute best time of year to fish here in the Key West area. There are dates available in March, April, May and June, so contact me whenever you get the itch to catch!
Our Father (Mother) - Son (Daughter) Key West Flats Fishing Trips are now scheduled for throughout the winter,spring, summer and fall.
For more information about the Father and Son Flats Fishing Trips go to www.keywestflyfishing.com/fatherandson.htm
Once again, you may contact Capt. Dexter Simmons for a future fishing charter on his TOLL FREE CHARTER HOTLINE: 877-228-8497 ///// or at 305-745-3304 or by email at captdexter@gmail.com

Key West Fishing Forecast:

Very Good for Tarpon, Permit during March and April.
Target Species:

Tarpon, Permit, Bonefish
More Fishing Reports: