March fishing like January
Capt. Dexter Simmons
March 22, 2010
Key West - Saltwater Fishing Report

The Fishing Report. March 22, 2010. We are still dealing with abnormal cold temperatures here in the Keys. March has been fishing like a cold January. There are a few Permit here and there, but unlike a typical March. We are hoping that April will bring more seasonable temperatures so that we can see a better Permit bite. When the water warms into the mid to high 70's and stays there for the rest of the Spring, then we will see the Tarpon migrate in from the deeper water too.


Here is a nice Cobia caught in January.Despite the January cold spell, we are still catching baby Tarpon in the creeks!


Here is an 11 pound Tarpon jumping this morning for angler Hank. The Tarpon was fooled with a Tarpon Cheeseburger fly.December featured some great Bonefish and Permit fishing.


Here is Dave McComb with a beautiful Permit.
We also had some good baby Tarpon fishing during December.
This past fall there were lots of Permit on the flats, as our weather was quite mild. Here is a 24 pound Permit and a 6 pound Bonefish taken by Atlanta Braves star lefty Tim Hudson.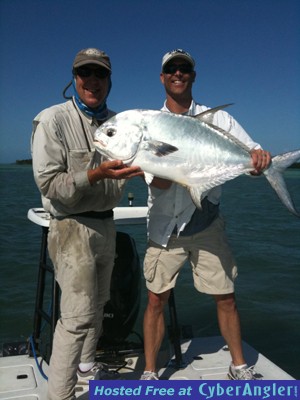 Tim and his wife Kim celebrated their 10th anniversary here in the Keys. Good luck to them, they are a great couple!
An early run of migrating Tarpon is expected in the near future as weather warms up here in the Keys!
Grand Slam fishing is available during this upcoming spring season, so if you are still after that elusive first Permit or Tarpon or Bonefish, now is the time! Call me and let's set up your March trip! Toll Free: 877-228-8497, or 305-745-3304.
Our Father (Mother) - Son (Daughter) Key West Flats Fishing Trips are now scheduled for throughout the winter,spring, summer and fall.
For more information about the Father and Son Flats Fishing Trips go to www.keywestflyfishing.com/fatherandson.htm
Once again, you may contact Capt. Dexter Simmons for a future fishing charter on his TOLL FREE CHARTER HOTLINE: 877-228-8497 ///// or at 305-745-3304 or by email at captdexter@gmail.com
Key West Fishing Forecast:

When the water warms into the mid to high 70's and STAYS THERE FOR THE REST OF THE SPRING, THEN WE WILL HAVE SEASONABLE FISHING!
Target Species:

Tarpon, Bonefish, Permit
More Fishing Reports: