Nice Weather for Flats Fishing!
Capt. Dexter Simmons
November 17, 2009
Key West - Saltwater Fishing Report

The Fishing Report. Nov. 15, 2009. A few more cold fronts have swept through the Keys and tropical storm Ida also brushed by last week. The resulting winds and weather have since diminished and we now have very nice conditions for flats fishing again. The water temps are in the low to mid 70's which is conducive to locating Bonefish and Permit. There are also some baby Tarpon that may be available. In addition, the cooler water has brought in some additional species like Florida Pompano, a few Redfish, and some Mackerel. There are also Jacks and Sea Trout available.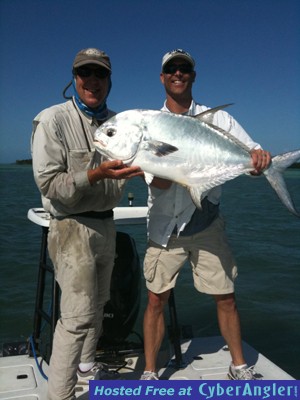 Here is a 24 pound Permit and a 6 pound Bonefish taken by
Atlanta Braves star lefty Tim Hudson. Tim and his wife Kim celebrated their 10th anniversary here in the Keys. Good luck to them, they are a great couple!
The cool down has helped bring the Permit in from the wrecks and reefs and the Bonefish in from the deeper cuts. We have not seen many Tarpon around except for baby Tarpon around the docks and in the creeks. Here is a nice baby taken by Pat Ehlers a few years ago.
Rarely will you catch a resident Tarpon over 50 pounds, even though there are some over 100 pounds in the local marina waters.
Grand Slam fishing is available during this cooling period, so if you are still after that elusive first Permit or Tarpon or Bonefish, now is the time! Our Father (Mother) - Son (Daughter) Key West Flats Fishing Trips are now scheduled for throughout the winter,spring, summer and fall.
For more information about the Father and Son Flats Fishing Trips go to www.keywestflyfishing.com/fatherandson.htm
Once again, you may contact Capt. Dexter Simmons for a future fishing charter on his TOLL FREE CHARTER HOTLINE:
877-228-8497 ///// or at 305-745-3304 or by email at captdexter@gmail.com
Key West Fishing Forecast:

Still good for Bonefish, Permit, baby Tarpon.
Target Species:

Tarpon, Bonefish, Permit
More Fishing Reports: