October is a great month to fish the Florida Keys and Key West!
Capt. Dexter Simmons
October 3, 2011
Key West - Saltwater Fishing Report

The Fishing Report. Oct. 3, 2011. October is here and it is one of my favorite months to Bonefish on the flats here in the
Lower Florida Keys. Here is a picture of a big Bonefish taken by Tim Hudson during an October trip.


Tarpon
, Bonefish, and Permit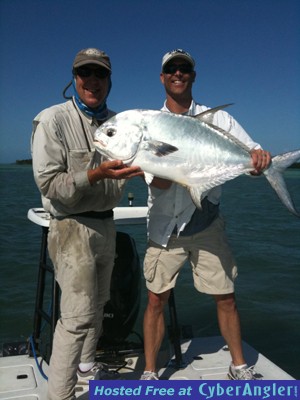 are all available right now as the waters are starting to cool off a bit after a hot summer. Resident Tarpon are wandering around on the flats and in channels, Bonefish are tailing up on the backcountry flats, and Permit are migrating in from the reefs and wrecks to tail up on the flats.
There are dates available in October and November, so contact me whenever you get the itch to catch!
Our Father (Mother) - Son (Daughter) Key West Flats Fishing Trips are now scheduled for throughout the winter,spring, summer and fall.
For more information about the Father and Son Flats Fishing Trips go to www.keywestflyfishing.com/fatherandson.htm
Once again, you may contact Capt. Dexter Simmons for a future fishing charter on his TOLL FREE CHARTER HOTLINE:
877-228-8497 ///// or at 305-745-3304 or by email at captdexter@gmail.com
Key West Fishing Forecast:

Excellent for Bonefish, Permit, and baby Tarpon
Target Species:

Tarpon, Bonefish, Permit
More Fishing Reports: