Red Hot Permit Fishing in the Lower Florida Keys!
Capt. Luke Kelly
March 23, 2009
Key West - Saltwater Fishing Report

Catch it while it is here, the Permit pre-spawn activity this year is off the hook. Large groups of hard fighting Permit can currently be found in the crystal clear shallows of the Lower Florida Keys and Key West. The last couple of weeks have provided epic conditions for sight fishing the flats, and this years early spring weather looks as if it will continue to do the same. March typically brings high winds to our area, although this year I have seen half the amount past years have brought, it is a great year to fish the flats in the Lower Keys.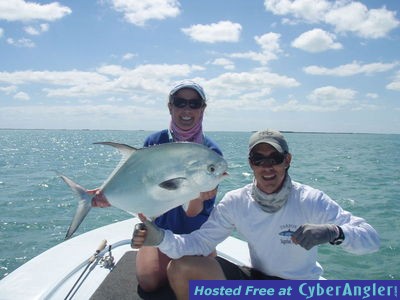 If you are unfamiliar with Permit flats fishing, and how they are caught, then please read on. First imagine your self on the bow of a flats boat atop beautiful shallow water flats overlooking crystal clear water as far as the eye can see. Breathing in the salt air with a fishing rod in your hand as you await your shot at a hungry Permit. These fish get big, and seeing their silver green skin and sharp black fins as they pierce the surface of the water while they feed on the flats is easy. Casting your bait or fly within their line of sight and fooling them into taking the hook is the challenge we all strive for in fishing, it doesn't get much better than Permit caught on the flats. This isn't trolling, or bouncing your bait off the bottom from a head boat. This is you, the fish in front of you, and your ability to catch that fish. Catching only one, in such an environment, provides a sort of fulfillment words just can't describe. The Lower Florida Keys and Key West are recognized by many as the Permit capitol of the world, where small and large Permit are plentiful in shallow water. The next few weeks are one of the best times of year to catch these guys down here, bottom-line.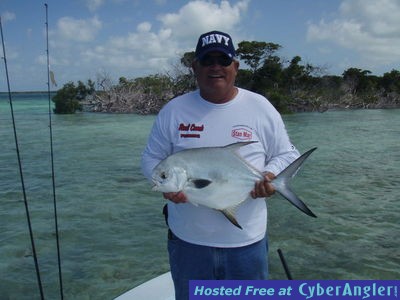 Tarpon and Bonefish are also here; ready to complete the full Lower Florida Keys flats and backcountry fishing experience. Thousands of Tarpon have invaded the inshore waters off of Key West. While bonefish seem to be loving our now warming water, it is simply up to the angler as to how many they would like to catch from here on out. Tarpon provide the sore arms many strive for out of a fishing trip, an ancient fish as big as the fisherman will do that. While bonefish provide that sporty sight fishing challenge that often pays big in the Lower Keys. Be sure to get out there and experience this stuff, it makes fishing take on a whole new meaning.

Key West Fishing Forecast:

I don't care what anyone else says, there will be great fishing from now until next winter in the flats and backcountry of the Lower Florida Keys and Key West, guaranteed.
Target Species:

Tarpon, Permit, and Bonefish all in one day.
More Fishing Reports: