Tarpon Fever, Palalo Worms, etc.
Capt. Dexter Simmons
May 31, 2010
Key West - Saltwater Fishing Report

The Fishing Report. May 31, 2010. Tarpon are EVERYWHERE! Mike Dinner of Toronto, Canada jumped this fish in the photos above.


Today he had SEVEN TARPON ON THE FLY! We are finding Tarpon laid up, in strings, and daisy chains throughout the Keys! There has been a push of fresh migrating Tarpon during the past few days, as the water has warmed into the mid to high 80's and our SE wind has remained steady for the better part of the week. The worm hatch is even starting to develop as the tide falls in the early evening.This is Grand Slam season
here in the Keys, so if we can coax you away from the Tarpon bite, then the Permit and Bonefish are also available.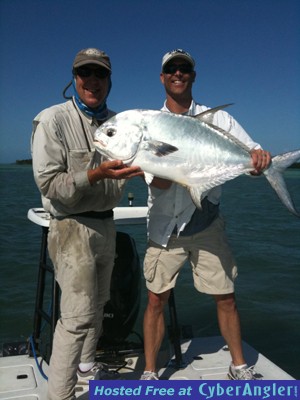 Here is a 24 pound Permit and a 6 pound Bonefish taken by Atlanta Braves star Tim Hudson. Tim and his wife Kim celebrated their 10th anniversary here in the Keys. Good luck to them, they are a great couple!
Grand Slam fishing is available during this Spring and Summer and early Fall seasons, so if you are still after that elusive first Permit or Tarpon or Bonefish, now is the time! Call me and let's set up your trip! Toll Free: 877-228-8497, or 305-745-3304.
Our Father (Mother) - Son (Daughter) Key West Flats Fishing Trips are now scheduled for throughout the winter,spring, summer and fall. For more information about the Father and Son Flats Fishing Trips go to www.keywestflyfishing.com/fatherandson.htm
Once again, you may contact Capt. Dexter Simmons for a future fishing charter on his TOLL FREE CHARTER HOTLINE:
877-228-8497 ///// or at 305-745-3304 or by email at captdexter@gmail.com
Key West Fishing Forecast:

Excellent for Tarpon, Good for Permit and Bonefish.
Target Species:

Tarpon, Bonefish, Permit
More Fishing Reports: