Tarpon Season Underway!
Capt. Dexter Simmons
May 1, 2010
Key West - Saltwater Fishing Report

The Fishing Report. May 1, 2010. Tarpon season is underway in spurts here and there. We have had some very good days and
some slow days, but this week we are expecting a push of fresh migrating Tarpon, as the water has warmed into the low 80's and our SE wind will remain steady for the better part of the week.
Here is a 24 pound Permit and a 6 pound Bonefish taken by
Atlanta Braves star Tim Hudson.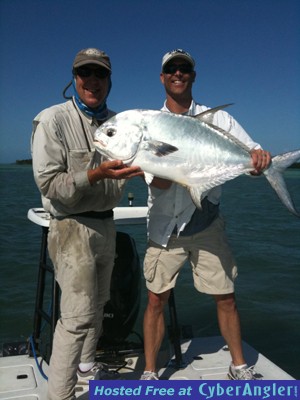 Tim and his wife Kim celebrated their 10th anniversary here in the Keys. Good luck to them, they are a great couple!
Migrating Tarpon are expected during the next few months here in the Keys! Grand Slam fishing is available during this Spring and Summer seasons, so if you are still after that elusive first Permit or Tarpon or Bonefish, now is the time! Call me and let's set up your trip! Toll Free: 877-228-8497, or 305-745-3304.
Our Father (Mother) - Son (Daughter) Key West Flats Fishing Trips are now scheduled for throughout the winter, spring,
summer and fall.
For more information about the Father and Son Flats Fishing Trips go to www.keywestflyfishing.com/fatherandson.htm
Once again, you may contact Capt. Dexter Simmons for a future fishing charter on his TOLL FREE CHARTER HOTLINE:
877-228-8497 ///// or at 305-745-3304 or by email at captdexter@gmail.com
Key West Fishing Forecast:

Tarpon should be pushing in big schools this week.
Target Species:

Tarpon, Bonefish, Permit
More Fishing Reports: