Turning out to be a great Summer in Key West
Capt. Richard Houde
August 16, 2017
Key West - Saltwater Fishing Report

It's been a pretty good summer. We've been running 6-9 trips most weeks and there have been a good, but not great, number of dolphin offshore. On Half days, we've had great action with big Bonitos, a (very) few Dolphin and an occasional Wahoo inshore. We caught the largest Wahoo I've ever caught as Captain on July 16th on a half day trip. Adam Banks is my 1st mate and he did a great job on the fish. It was 76 lbs. It's the 3rd Wahoo I've had on board in the 70+lb range. I also have a 72 lb'er caught with Paul Murdoch as 1st mate and a 74 lb'er caught Dan Smith as 1st mate. All three big Wahoo's were caught in relatively shallow water. This one was in 109 ft of water just outside the reef. The other 2 were in 180 ft of water or less. All 3 were caught in the same area, between the reef known as the 9 Ft Stake and the reef known as the Toppino marker and all in the middle of the summer. I can't remember if the 72 & 74 lb'ers were females or not, but this 76 lb'er was. I have to think that area may have some significance as a spawning area.........or it's just coincidence. 3 big fish is too small a sample to make a definitive study, but I will continue to work that area in the summer months just in case.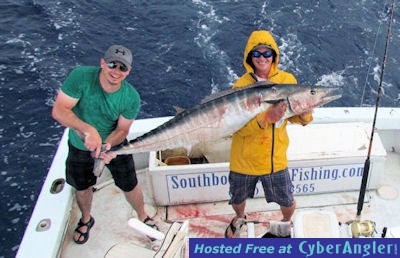 On longer trips we've been heading offshore and most days catching enough to make it a good day. There was not a lot of Sargasso Weed around through most of July, but early August made up for that with a tremendous weed line that passed though the keys. We fished the same weed line for 8-9 days with a 2+kt current. That means the weed line was probably over 400 miles long. It's amazing when you think about it. Although there were not a tremendous amount of big dolphin, there was a great number of school sized fish which makes for steady action and a great day.
There have been some Sailfish still around. No rhyme or reason to where. Just got to get lucky and drive over one. We have released a few in the last couple weeks.
The kids go back to school soon. Locally I think they start tomorrow and I'm sure they start soon in the rest of Fla. and other states. Generally that means a slowdown for business. This year is no different. We fished 8 trips last week, we only have 3 scheduled this week. That's OK, as I have plenty to catch up on at home and on the boat. For one thing, it gives me time to update the web page and this fishing report. Unfortunately, even though business slows up a bit, it doesn't mean the fishing drops off. Late August to early September it's not unusual to get a late summer "push" of dolphin. There are not a lot of customers around to catch them, but those that are here usually have good catches. It's a great time for people to enjoy a "slower paced" Key West
www.southboundsportfishing.com
More Fishing Reports: