Central Florida Bass Fishing
Capt. Tim Fey
December 13, 2010
Kissimmee Chain - Freshwater Fishing Report

Bass Fishing in Florida is still a hook setting bonanza. Sid returned once again for some great bass fishing action out on Lake Jackson here in Central Florida. We started the day out hitting the ramp very early so we were on our first spot just before 7am. Cooler temperatures than the day before and a fog that did not let go of us until just after 10am, looked like it was going to be a tougher day than we had been used to.
We started out on that first spot, which had been great at producing not only some good numbers of bass, but also some pretty good sized bass as well. Today was a day of all wild shiners and the bass did not let us down.


Tossing free lined shiners to the edges of the lily pads was the way to go, one thing we did notice was the placement of the shiners today was the big key to catching the bass. Placing the bait a couple feet from the pad yielded little to no action at all, but if they were placed within inches of the pads, the bass played very good for us.
With the wind constantly changing directions on us, the Dig In Anchor system was awesome at holding us in place and allowed us to pin point our casts to the edges with no problem. This was a great bass fishing day for Sid, as he boated not only 21 bass in four hours, but also landed three catfish a pickerel and a big bowfin. Lot of action for Sid today and I got a pretty good work out myself zipping around the boat netting all of his fish today.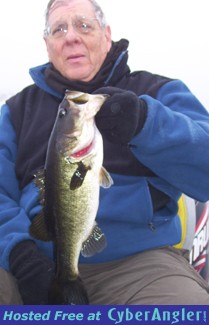 I still have a few open dates for December and January while February is booking up fast. We are expecting yet another very busy spawn season as we did this previous season, so book your bass fishing trips soon.

Target Species:

largemouth bass
More Fishing Reports: