Grouper Hot In Hot Weather
Capt. Lisa Williams
August 8, 2013
Marco Island - Saltwater Fishing Report

I haven't talked much lately about offshore fishing. Between afternoon thunderstorms and high winds, offshore excursions were dicey at best. But the weather has improved, so we've been able to spend a little more time out there.
Fishing the wrecks and reefs off Marco Island is easy and we have a variety of species to choose from.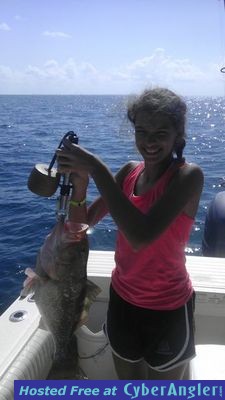 Grouper: Red Grouper can be found in several different habitats from coral ledges to hard bottom we call "Swiss Cheese" bottom. Drift fishing is usually the preferred method but don't overlook the good old "anchor and chum" method. Use squid on a knocker rig (6-8/0 circle hook with a 1-3 oz. egg sinker suspended about 24 inches above the hook ). The best way to rig this is to use 2 barrel swivels with about 12 inches of 30-50 lb. fluorocarbon between them. Tie one end to a swivel, place the egg sinker on the line, and then attach the other swivel to the other end of the line. Now tie your 24 inch leader to one of the barrel swivels and your hook at the bottom end. Just add squid and drop to the bottom.


Gag Grouper are around as well. Some folks say that they prefer Gag Grouper to Red Grouper. I honestly can't tell much difference myself. But fishing for Gag Grouper is usually a little different because Gag Groupers are a voracious predator and will respond best to live baits like Pinfish or large Pilchards. Another method is to troll artificial plugs like a Stretch 30 or Bomber. Make sure that you get your lures all the way to the bottom if you want to catch Gags, as they tend to ambush prey from a concealed location like a rock pile or ledge. This method is especially good around artificial reefs and rubble piles but beware, hanging a $20.00 lure on a rock pile can get expensive.


Snapper: Less is more, light leaders and small hooks are the ticket for snappers.
One fish that is surprisingly good table fare is the White Grunt. These will be present in the same areas that you find Red grouper and Grey snappers. Small to medium circle hooks and light (10-20 lb. leader) works well for these tasty critters.

Target Species:

Gag Grouper, Red Grouper, Snapper, Grunt
More Fishing Reports: