Redfish Biting in Clear Water and Mild Temperatures
Capt. Lisa Williams
October 20, 2013
Marco Island - Saltwater Fishing Report

As we finally get past the rainy season, and temperatures are getting more comfortable, the water is starting to clear up and is a beautiful Caribbean blue. This can be a blessing or a curse for local fishing.


For sight anglers, the clear water gives them the opportunity to stalk Redfish and Snook. But it also gives the fish you are stalking the ability to see you. So you have to be a little sneaky.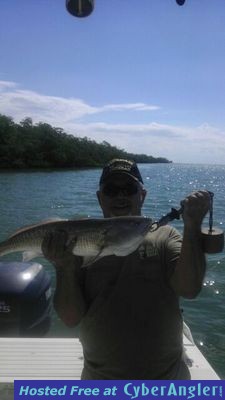 Redfish are schooling up in larger groups feeding on the abundant bait. Bait placement is critical when sight casting to a school of reds. Pick the lead fish and throw well in front and to farthest side, moving your bait slowly into the path of the school. Plopping a bait in the middle of them will usually result in the school scattering, and it might be a long while before they settle down and regroup.


Trout are moving back into the flats and can be a great way to spend a few hours. Try casting popping corks with a live shrimp over grass flats and near shoals and oyster bars. Be sure to make your casts as far from the boat as you can, this will give you the best shot at a big fish. The big ones didn't get big by being stupid.
Pompano and Flounder are still biting and can be a tasty addition to your assortment. Slowly working a shrimp on a jig head pausing frequently to make sure you are hitting bottom works well.

More Fishing Reports: