Big Snook
Capt. Matt Hoover
July 1, 2011
Marco Island - Saltwater Fishing Report

Fishing this past month has been excellent. Snook, redfish, and tarpon have been keeping us busy.
There have been some large snook roaming around the Marco and 10,000 Islands this past month. Most of the bait that I have been able to get is large and it has been producing larger snook that range from 5 to 20 pounds. A few larger redfish have been in the mix as well.
If you get out early, tarpon in the 30 to 150 pound range have been rolling in the passes and bays of the 10,000 Islands.
I have had a few very productive fly fishing trips sight fishing for snook etc. during the lower phases of the tides. Fishing has been excellent and boat traffic is down. Now is the time to do some serious catching. I hope everyone has a super and safe Fourth Of July. Remember, freedom isn't free. Thanks to all of our men and women in uniform and to those who served before them. Let us not forget those who made the ultimate sacrifice. I'll see you on the water.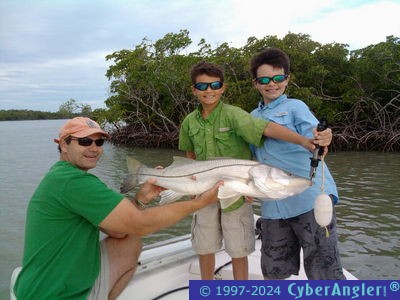 Marco Island Fishing Forecast:

fishing will remain excellent
Target Species:

snook,redfish,trout,tarpon
More Fishing Reports: