Snook and Shark plentiful in Marco Island, FL
Capt. Lisa Williams
April 18, 2012
Marco Island - Saltwater Fishing Report

Well the wind is still a factor in the fishing here in The 10,000 Islands.
Although we've had our windy days, it has been letting up long enough for the water to clear and the fish to move back to their normal feeding patterns.
Plenty of action in the backwaters from Caxambas Pass to Dismal Key including Spotted Sea Trout as well as Silver Trout caught in large numbers over the grass flats and near the mangroves with live shrimp on long shanked hooks or shrimp tipped jigs. Pompano, Flounder, Southern Kingfish are in good supply.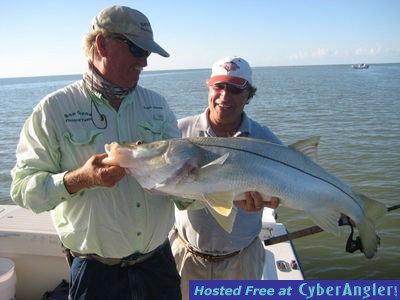 We have also been getting our share of Snook recently. Here's a picture of Steve who caught his 40" Snook with us on a trip last week. Caught with a live shrimp in a small pool right in the mangroves he wrestled this monster out long enough for pictures, then, of course, Mr. Snook was released unharmed back to his home.
Can you say SHARK? On the last 4 "Shark Hunts" our customers have caught and released at least 40 sharks including an 11 ft. Tiger Shark ,as well as numerous Lemon, Black tip, Sandbar, Dusky, and Nurse Sharks from 4 to 7 Ft. Cut ladyfish on 8/0 or 10/0 circle hooks with a wire leader , 5000 series plus bait runner reel and a hefty rod is the ticket to getting these fighters to the boat.
Tarpon are showing up in larger numbers although they're acting somewhat finicky and we're starting to see some large schools of Bull Redfish a few miles offshore.

More Fishing Reports: