Snook,Jacks,Grouper, and KIds
Capt. Matt Hoover
January 6, 2009
Marco Island - Saltwater Fishing Report

Fishing this past week has been very good for this time of year. I spent all week fishing for snook, redfish, trout, jacks, and whatever else was willing to bite live bait. We have been getting live bait in deep water on offshore piles.
While I had success all week in catching all of the above species, the real joy this week was taking some of the neighborhood kids fishing as they were out of school and they were more than willing to go. Actually, my wife PJ conned me into taking them.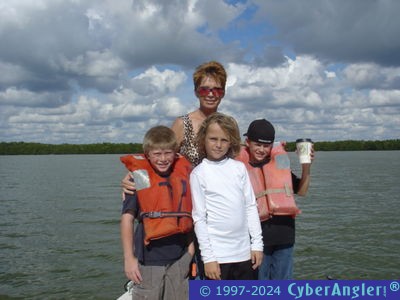 I was glad that I did because no fishing experience beats taking a young person out for a day. Kids are so much fun because they don't get on the boat with a huge wish list that was generated by gleaning the internet. They don't care that it is winter time and catching a small snook is a bonus this time of year. Kids are just happy to have some action.
My kids' names are Dylan, Dylan, and Blake. I would have had another Dylan on the boat but he was too beat from playing a hockey match from the night before. With so many Dylans, I just call them the Toe Head gang. They all have alias names we gave them to avoid confusion.
After catching a well full of scaled sardines, which they thought was cool, we went to a dock on Marco where the jacks, snook, and small gag grouper are willing most of the time. The boys threw out their first baits and it was instant hookups.
We worked two rods at a time and everybody took turns.
They caught jacks and small grouper.
A group of dolphin showed up and started feeding on the jacks they were releasing, so the kids got a bird's eye view of Flipper in action.
These dolphin actually turn upside down under the water and beg by the side of the boat! When the dolphin show up, the bite quits, so we moved into the Ten Thousand Islands.
We fished a few spots along the shorelines and caught small to medium snook at almost every spot.
Dylan (aka: Surfer Boy) missed a very nice red at one spot.
The Ten thousand Islands are a special place.
It is the second largest mangrove stand in the world. It amazes me how many people live in this area and never get to witness its beauty. I am very pleased that I had the privilege to give these young men their first taste. By one thirty and many fish later, the Toe Head Gang was all worn out so we headed home.
Often we forget to see the world through the eyes of a child. It was so much fun being nine for a day. I would recommend trying to recapture that frame of mind the next time you step out to enjoy a day in nature. It will greatly enhance your experience. I'll see you on the water.
Marco Island Fishing Forecast:

A cold front is coming so it may be back to winter tactics
Target Species:

snook,redfish,trout,tarpon
More Fishing Reports: