Summer snook,redfish,trout,tarpon
Capt. Matt Hoover
May 31, 2012
Marco Island - Saltwater Fishing Report

Fishing has been excellent these past few weeks. Whether you are fly fishing, throwing artificials, or pitching live bait, it's all good. Snook and redfish can be had at almost every point as long as the water is moving. Trout fishing has been the best that I think that I have ever seen.
This past Memorial Day weekend was a memorable one for me. I had a day open and decided to take my dad fishing. We struggled a bit to net live bait as the wind was out of the southwest, but I managed to net enough sardines and threadfin to be on our way. The tide was going out and I stopped at a point that was being slammed by the current. On my Dad's first cast, he hooked a medium sized snook.
The rest of the day got better. I caught a 17lb snook that left me gasping for air after almost kicking my ass in the bushes three times. Then I caught a 10 pounder that was on steroids. We hammered the snook down the bank for the next hundred yards. There were redfish in the mixa as well. All of the reds were in the slot with one weighing in at 8 pounds.

The big trout have been hanging out where you might cat6ch a snook. Some of these fish are 24 inches in length. These are big trout for our area. If you go trout fishing in earnest, it hasn't been too much of a problem getting your limit.

Tarpon are still roaming around. If you target them, your chances of a hookup are good. Look for them early in the morning rolling in the passes or "laying up" in quiet adjacent bays.

The crowds are gone and most people don't realize that this is one of the best times to have a productive day. The morning hours or later afternoons have been the best. The fishing is hot so give me a call. I'll see you on the water.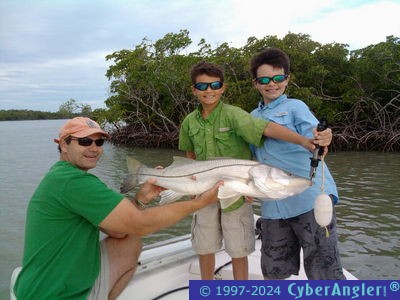 Target Species:

snook,redfish,trout,tarpon
More Fishing Reports: