Trout and Black Drum in Southwest Florida
Capt. Lisa Williams
January 16, 2014
Marco Island - Saltwater Fishing Report

Fishing the 10,000 Islands is always interesting. Changing water conditions will keep you on your toes in the winter months.
Temperatures are a key factor in our fishery. As the water cools in the fall/winter it brings a lot of different species into the shallower areas, and moves others to seek shelter in the mangroves.
Redfish have been spotty at best but are still being caught in some of the inshore islands and bays. Cut bait presented close to mangrove edges and worked slowly will produce a few slot sized fish.
Trout are beginning to move onto the outer grass beds and some of the channels leading into the backwater. Live whole shrimp work well in the grass flats when the Trout are warming up, or a jig tipped with shrimp under a popping cork will produce good results.
Black Drum are plentiful in the deep cuts and channels. Live shrimp on the bottom have produced good numbers of Black Drum in the 5-7 lb. range.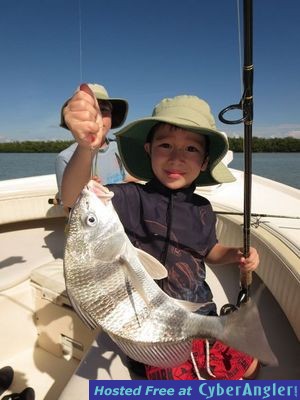 When the water clarity improves between cold fronts, Pompano are showing up in pretty good numbers. Pompano Jigs tipped with shrimp and retrieved quickly seems to work best.

Target Species:

Black Drum, Trout, Redfish, Pompano
More Fishing Reports: