Trout, Sheephead, Redfish Caught Despite Windy Weather
Capt. Lisa Williams
April 12, 2013
Marco Island - Saltwater Fishing Report

With the past month being super windy, sometimes super cold, and at times rainy, some days it's taken brave souls to go out searching for the big one. But I can say one thing about Sea Gone's awesome customers…they're not ascared. And with they're bravery has come reward.
With the wind has come murky waters. And in those waters Trout, Sheephead, and Snapper are the fish of the month while Redfish and Snook have been somewhat more rare.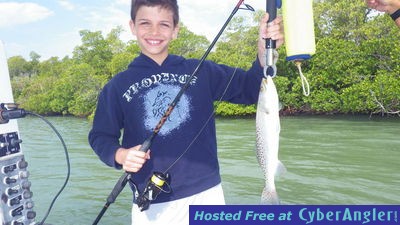 Multiple species of Trout including Spotted, Silver, and Sugar Trout have been in rich supply either working a live shrimp on a 3/0 long shanked hook across the bottom in the grass flats, or under a popping cork.
Using a super small hook (#1) with live shrimp has been the secret when targeting large Sheephead in the grass flats and along the mangrove banks.
Mangrove Snapper have been abundant near the mangroves and have made themselves available when the Redfish and Snook have been more difficult to find, although there have been some Redfish catches using live white bait, or live shrimp, when casting within about four to six inches of the bank.
Outside the passes, Pompano have been biting on the same rigs as the trout, as well as jigheads tipped with shrimp.

Target Species:

Trout, Redfish, Sheephead, Pompano
More Fishing Reports: