6 & 9 Dec Trouts and Reds on fire
Capt. Jim Conant
December 10, 2014
Matlacha - Saltwater Fishing Report

Reds and Trout on Fire
Starting on 6 Dec went fishing with Wounded Warrior Anglers Matlacha Regiment internal fishing tournament and it was a great day for all the boats. As for my boat carrying two Wounded Warrior Members I started the day buying bait at Seven Seas Bait and Tackle in Matlacha and headed to the dock to pick up my crew. With the morning being a bit chilly and the water was almost at a negative low tide. I decided to head south to Sanibel bridge and fish with the incoming tide and work my way back up through Matlacha on up to Bokeelia. And that turned into a great day catching almost everything on a fisherman's list of fish to catch. As the tide started coming in we saw the bait start hitting the flats the birds attacking from above and a lil bit later there were fish under them attacking also. Our first stop started with a bull red breaking off after a minute or two fight. A couple minutes later we were on slot reds. After this we decided to fish around the miserable mile and in the channel were thousands of trout and lady fish galore catching fish with almost every cast. After this died down we headed a little farther North and got on more trout and ladyfish. There were plenty of big sheeps head around stealing our bait but no one wanted to downsize on hooks to catch these guys. A little bit later we were in Matlacha and back on slot reds and also started seeing other boats belonging to Wounded Warrior Anglers that were also on the fish. Heading North out of Matlacha the story continued until we had to head back to the Old Fish House to meet up with all the other Veterans for fish tales drinks and a meal. It was a great day out on the water and hanging with my fellow Veteran Brothers in Arms.
On 9 Dec I took out a Darrin who was down from Michigan with the weather cloudy windy and bitterly cold we headed out. With the tide headed out going towards another Negative tide we were looking for reds on the flats and trying not to get stuck with the fast outgoing tide. We found a school or reds before the water got to skinny and got a couple of them before leaving the area. The bite turned off for a couple hours and we were waiting for the incoming tide that was going to be slow moving thanks to the North wind. But as the tide changed we were now moving locations every twenty or so minutes catching reds here and there. And wouldn't you know it the sun comes out as we headed off the water. All in all it was another successful day despite the weather being miserable catching fish kept us warm.
Tight Lines
If you're ready to go fishing give me a call to plan your trip so we can try and catch the tides right. As I do cater to the Veteran community, if you're a Veteran with proof I have the best prices around and I guarantee it. My Charter business is by word of mouth only or by my fishing reports calling in.
Captain Jim
719-331-3117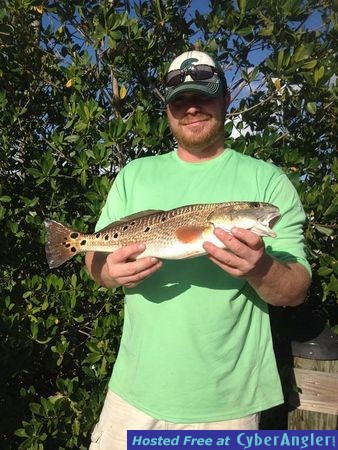 More Fishing Reports: