Bad water fishing
Capt. Jim Conant
July 7, 2018
Matlacha - Saltwater Fishing Report

7 July 2018
Bad water fishing
With the release of the Okeechobee reservoir the waters out here have turned ugly. Fish kills in areas and now green algae on top of a prolonged red tide have made fishing difficult to say the least. Thank god it hasn't gotten into the Matlacha area. I forget how many times since my last report I would go catch bait and run across some bad water and the bait will be dead before I reach the fishing grounds or pick up my clients. It is really sad when our politicians are in the back pocket of the sugar barons of Florida. Yes some of the red tide occurs naturally but most of it is caused by polluted water releases from inland. Please support Captains for Clean water and get our voices heard to clean up our beloved waters.
How to fish with this nasty water. While you're out on the water and see and smell differences take note of what is going on by the water you are in. Note if you go too far in one direction and the water clarity changed along with no life on the water changed direction until it starts to clear and you see life on the water. Seeing bait balls is a great sign, but with the changing of the tides these areas will change also. What's good on outgoing tide might be a bad area on an incoming tide. If you start coughing for no reason or a sudden sinus headache leave the area and find better waters. That is a sure sign of red tide besides the stench of dead fish or the sight of dead fish. You will also see where different waters collide together. On one side zero life and maybe 30 yards on the other there is bait busting everywhere this should tell you which way to concentrate your fishing. Right now some of my favorite areas to fish are no-go zones until the water clears and fish come back.
With this being said some hardier fish can survive these bad conditions and stay in a contaminated area. These are the fish you see but won't bite a thing your throw in front of them. They don't really want to chase a live bait but may be enticed by a cut bait such as a small mullet chunk or other small cut bait. Again once I see this I generally move to another area either a couple hundred yards or a couple miles or even to the other side of the pass.
The last two weeks I have been killing it on Spanish mackerel, Cobia and black tip sharks out in the open and in the bait schools. With the exception of July 5th after all the rain from the night of the 4th. That wasn't a good day with too much freshwater all around. It did rebound yesterday with bait balls everywhere, cow nose rays by the thousands and blacktip sharks galore staying in the somewhat cleaner waters. Where you see big pods of rays' fish it! You may catch a ton of sharks and mackerels but there are also cobia mixed in there too. This type of fishing is great for kids and families that don't regularly fish saltwater. The action is nonstop and as a guide I am working my backside off.
Backwaters
Fishing backwaters is still decent finding the cleaner areas. My clients have caught numerous snook and big ones at that with some reds mixed in as well. I've been using threadies and cut threads along with mullet chunks. Depending on the situation of water conditions. I also don't target reds with clients after the water temps get to high since they are too far up in the mangroves and I don't want to tie new rigs for every cast my guests make and it's also too slow of fishing. Nice keeper snapper are being caught on small pieces of cut bait and or shrimp.
I hope this information helps you up your fishing game. Not much is going to change during the summer months but hopefully the waters clear up with everyone pushing our elected officials to do the right thing and get out of the pockets of the people responsible for the destruction of our fishery.
Check out and like my Facebook www.facebook.com/jimbocharters/" target="_blank">https://www.facebook.com/jimbocharters/ and Instagram #jimboscharters page for recent pictures and trips. If you're ready to go fishing give me a call to plan your trip so we can try and catch the tides right. If you're a Disabled/ Retired Veteran or first responder I have discounts for you. I'm also on Facebook at Jimbo's Charters where I post pictures if my clients let me and my website www.Jimboscharters.com and my You tube channel I am slowly building www.youtube.com/channel/UCGhDg-V7oR-ex6W-5ztwLAQ" target="_blank">https://www.youtube.com/channel/UCGhDg-V7oR-ex6W-5ztwLAQ
Also, if you see me out there say Hi. I am a friendly guy that likes to help. Just don't ask for a pin point location, but I will tell you what I am catching fish on.
Captain Jim
239-671-4692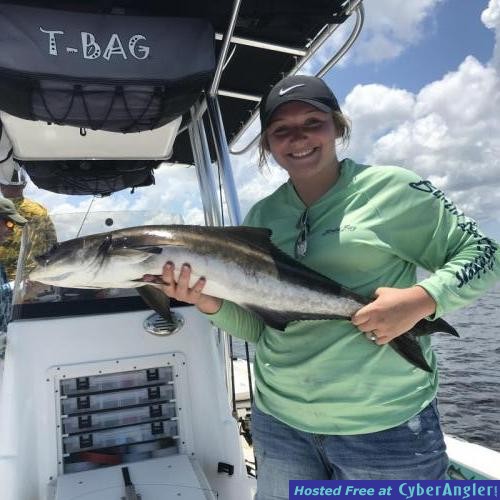 More Fishing Reports: