April/May Fishing Report – Reward Fishing Fleet
Capt. Wayne Conn
April 11, 2014
Miami - Saltwater Fishing Report

Springtime fishing is in full swing now. Kingfish, Sailfish, Dolphin (Mahi), Black Fin Tuna, cobia and assorted bottom fish have been caught on many day trips, in varying numbers. The water conditions have been different on a daily basis changing the number, species and feeding patterns of fish we catch. Some days we have 3-4 knot currents, then none the next. Below is a beautiful king caught last Friday by one of our happy customers.
Currents and sea conditions all contribute to our success. Sometimes we get action shallow, the next day deeper. The good thing about it is we can start our drifts out to 300 feet of water or so, and with an east wind, drift inshore changing depths constantly. On the deeper side we may catch Mahi, small sharks, bonito, or Black Fin Tuna. While the drift gets shallower we may catch the kings as well as mutton or vermillion snapper on our deeper bottom rigs.
The past few years we've had a grouper season in place with a mandatory closure. I will tell you it is working! We are catching and releasing more grouper than we could imagine. Both trolling big plugs and vertical jigging have resulted in fish like the one below that "Mr. K" recently caught. We will have "Super Grouper" trips this year from May 1st to May 4th. Stay in touch with our website www.fishingmiami.com, and Facebook page "Reward Fishing Fleet" for details.
We catch most of our fish by using whole ballyhoo and sardines on a three hook rig on 30 lb test, with a Shakespeare Ugly Stik rod and a Penn 113 h2, using weights from 1/2 ounce to 4 ounces. Although we are equipped with live wells on our boats, the live bait has been extremely difficult to catch as we have in the past. This makes us fish more with dead bait only, which keeps our sailfish and other elite game fish hook ups low. We hope this doesn't last too long, as utilizing live bait while we drift has been a cornerstone of our business, making us more unique than others. It is a day to day issue.
Night fishing on the Reward Fleet has been awesome! We had a Saturday night trip last week where we caught over 300 snappers for our 40 plus customers! Yellowtails were the bulk of the catch, with some mangrove and mutton snapper mixed in. We use 20 lb test line on medium action spinning rods, small circle hooks, and both smelt and sardines for bail. At this time we are only fishing Wednesday through Saturday evenings. This has greatly reduced our trips that we don't have enough passengers to go out. Unfortunately, rising fuel costs require us to have a minimum number of customers to make a trip happen.
We recently added a cool sport fishing boat to our fleet. It's a tricked out 37 foot Topaz Express, M/V "LEGACY" is her new name.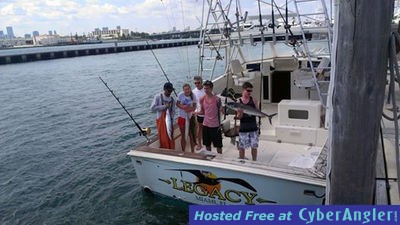 She is fast and rigged to do every kind of South Florida fishing imaginable. Kite fishing, sword fishing (day or night), trolling, wreck fishing, and seasonal Cubera snapper and permit/tarpon fishing. She is a "fishing machine" limited to six anglers, capable of fishing off Key Largo on an all day trip! Call us for pricing and details.
Check out our Face Book page at "Reward Fishing Fleet", and website www.fishingmiami.com.
We will be posting plenty of photos and a schedule of future special trips. 10 hour "Ironman" trips as well as special vertical jigging events will be happening! A report by one of our last Ironman customers can be seen at http://cudamanadventures.com/2014/03/30/iron-man-12-hour-fishing-on-the-reward-won-3-29-14/
Give us a call at 305-372-9470 to book your next fishing trip. Keep in mind we do small group charters as well for all types of fishing including kite fishing and wreck fishing.
Captain Wayne Conn
Reward Fishing Fleet
wwwfishingmiami.com
305-372-9470

More Fishing Reports: