Early April Fishing Report
Capt. Orlando Muniz
April 6, 2017
Miami - Saltwater Fishing Report

The month of April is usually associated with excellent fishing opportunities. So far, the first week of April has been very good even though the conditions have varied a bit from day to day. Most of our catches have been composed of a mixed bag consisting of sailfish, amberjack, grouper, and kingfish. Although we didn't catch any this past week, blackfin tuna are starting to show up along with a few yellowfins mixed in. Most of the yellowfins have been under 50 pounds but I've heard of some bigger fish being hooked (not a lot of landing though).
The tuna fishing should get better and better as we get deeper into the spring bite. I am hoping that we'll get our shots next week as we have a couple of trips scheduled late in the day when tunas bite best.
Sailfish are still around in good numbers and are biting pretty good especially when conditions are right. Two key factors to good sailfishing are clean blue water and a strong north current. Another important aspect of this type of fishing is bait. We've been using a lot of threadfin herring, cigar minnows, and blue runners but spanish sardines and goggle eyes are also hard to beat when available. Even though we've caught several sails on flat lines, most of our bites have come off the kite baits. I expect that sailfish will continue to push through for at least another month or so.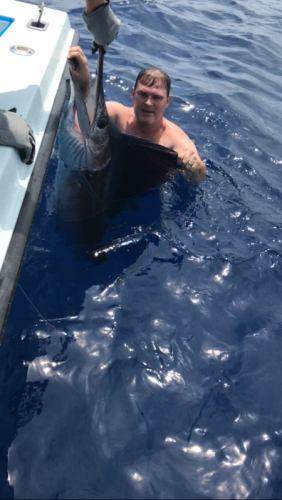 Besides tuna and sails, we've also been doing pretty good fishing the deeper ledges and wrecks. Big bruiser amberjack have moved into our area and are actually keeping baits from reaching the bottom in some cases. In between the jack bites we have been catching a few mutton snapper and both black and gag grouper. Fortunately for the grouper, it is strictly catch and release right now. The season is set to open on May 1st and I can't wait. Hopefully, the weather will cooperate on opening day so we can have catch a few.
One problem that we did run into on our last trip was very large and hungry sharks. We had several fish bit in half by bull sharks in the 200-300 pound range. At one point we had to change spots in order to keep the sharks from eating so many fish. It is pretty impressive to see one of these apex predators taking out another predator in the 30-50 pound range.
Again, expect the fishing to get better and better. I will try to post another report in the next couple of weeks if time allows. Also, for those of you interested in learning about some of the techniques we use out on the water. I'll be presenting a seminar on "Spring Fishing" at the Bass Pro Shops (Miami) located at Dolphin Mall. The date is set for Wednesday, April 19th at 7:00 p.m. If you have any questions, feel free to call, text, or email your questions directly to me.
We'll that's pretty much it for right now. Also, don't forget that you can keep up with all of the action by following us on FACEBOOK, Instagram, and Twitter. If you like watching some of the action, be sure to check out my YOUTUBE page for the latest video additions.
SPONSORS AND FRIENDS: Bass Pro Shops, Tracker Marine, Baitmasters, Mercury Marine, Costa Del Mar, and SeaDek.
Tight Lines,
Capt. Orlando Muniz
Nomad Fishing Charters
fishingchartermiami.com
786-266-0171
Miami Fishing Forecast:

Expect great fishing over the next few weeks. Plenty of sails, tuna, mahi, grouper, etc.
Target Species:

sailfish tuna dolphin wahoo kingfish snapper grouper amberjack
More Fishing Reports: