Now is the time to Fish in South Florida
Capt. Alan Sherman
February 27, 2011
Miami - Saltwater Fishing Report

Fishing in South Florida has been great. Pick any area that I fish, North Biscayne Bay where quality sized sea trout, snapper, barracudas, jacks, bluerunners, a few bluefish and Spanish mackerel, tarpon at night a few snook day and night are eating live baits and artificial lures or South Biscayne Bay where the Finger Channels have warmed up enough to start producing catches of gag, black and red groupers plus snappers, ladyfish, bluefish, mackerel, porgies and a few snook on live pilchards and then the Patch reefs that have been red hot with catches of nice quality sized mangrove snappers, a few mutton snappers, porgies up to six pounds, red, black and gag groupers to six and a half pounds for catch and release and sharks plus a 21 pound cobia that Ron landed on Thursday and then offshore schools of bonitos, arctic and false albacore along with blackfin tuna and dolphin's have been feeding on schools of baby goggle eyes, and almoco jacks, kingfish and Spanish mackerel have been eating Rapala Flat Raps and live pilchards and then while your offshore right now there is always the possibility at a shot at a sailfish and then in Everglades National Park in Flamingo redfish, snook, sea trout, the return of Spanish mackerel, bluefish, cobia and pompano in The Gulf make this area a real attractive location to fish.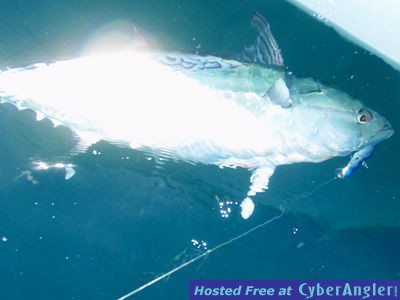 The weather has been outstanding and should stay this way for some time. Catch that magic day and there is a good chance you will be bragging to your friend about all of the fish you caught aboard the "Get Em" with Capt. Alan Sherman.
The gear my clients have been using during all of their charters on board the "Get Em" are Daiwa Advantage spinning reels, Key Largo Rods, Hookup lures, Mustad Hooks, Fins braided lines, Stren monofilament lines, Rapala artificial lures, Berkley Gulp baits, Cajun Thunder floats and I net my live baits with my Lee Fisher Cast net.
That's it for now!
Let's get out there are see what we can catch.
Give me a call at 786-436-2064 or e-mail me at [email protected]
Let's go catch some Fish!
Check out my new web site and to read about the weekly catches and to see your pictures.
www.getemsportfishing.com
[email protected]
Check out my report in the Miami Herald's Sports section under Fishing Updates each Thursday, the Florida Sportsman Magazines South Florida Internet Fishing Report (www.floridaspotsman.com), my monthly Action Spotter Fishing Report for the South Region in the Florida Sportsman Magazine each month.
I have recently changed outboard engines on my 22' Pathfinder XL Tournament Edition Bay Boat. I had an opportunity to put one of the first Yamaha SHO 250 Four Stroke outboards on my boat and the difference has been just amazing. This engine has 25 more horsepower but carries 77 less pounds allowing me better hole shot while giving great cruising fuel efficiency. What more can a boater ask for?
I have been wearing a lot of Columbia Sports Wear on my fishing charters and the new Blood & Guts shirts are amazing. I have had mackerel, cobia and snook just splatter me with blood and one good washing and the shirts are as good as new. Check out their web site at www.columbia.com
Sponsors: Yamaha, Bob Hewes Boats, Maverick, Minn Kota, Lowrance Electronics, Daiwa, General Motors & Chevrolet, Rapala, Mustad, Pure Fishing, Gulp, Berkley, Precision Tackle, Cajun Thunders, Capt. Hank Brown's Hook Up Lures, Hydro Glow Lights, Saltwater Assassins, Key Largo Rods, Lee Fisher Cast Nets, Smartshield, Master Repair in Stuart Florida, Power Pole, Stow Master Nets, superfishlight.com, Columbia Wear, Tempress Seating, Aluminum Fabricating Inc.
Capt. Alan Sherman
"Get Em" Sportfishing Charters
786-436-2064
www.getemsportfishing.com
Field Editor of the Florida Sportsman Magazines Action Spotter Report South Region
Field Editor of the Florida Sportsman Magazines Internet Fishing Forecast South Region
Editor of the Miami Heralds South Florida Fishing Report Thursdays Edition
Miami Fishing Forecast:

I expect the fishing to be pretty consistent for the next three or four months with lots of SEA TROUT, JACK CREVALLES, LADYFISH, SPANISH MACKEREL, BLUEFISH, GROUPER, BARRACUDAS, SNOOK, TARPON and some POMPANO in NORTH BISCAYNE BAY and OFFSHORE of MIAMI KINGFISH, MACKEREL, SAILFISH and DOLPHINS available on the calmer days and in SOUTH BISCAYNE BAY lots of action from a wide variety of fish like the SNAPPERS, GROUPERS, JACKS, BLUEFISH, MACKERELS, POMPANO, LADYFISH, PORGIES, GRUNTS, SNOOK and BLUERUNNERS keeping anglers busy catching and releasing fish most of the day. FLAMINGO in EVERGLADES NATIONAL PARK will have a huge amount of wildlife like the WHITE PELICANS, ROSEATTE SPOONBILLS, SKIMMER BIRDS,GULLS, OSPREYS, EAGLES, TERNS, EGRETS, HERONS, ALLIGATORS, CROCODILES, BOTTLE NOSED DOLPHINS, MANATTEES, SHARKS and TURTLES and of course the wide variety of fish that migrate into FLORIDA BAY and the GULF waters during the cooler months of the year. SNOOK, TARPON, REDFISH, SEA TROUT, SHEEPSHEAD, TRIIPLETAIL, BLACK DRUM, SNAPPER, GOLIATH AND GAG GROUPER, POMOPANO, COBIA, MACKEREL, BLUEFISH and I'm sure I am leaving a few other fish species out will be available to all anglers at one time or another throughout the rest of Winter and into the Spring.
Target Species:

Snook, Tarpon, Redfish, Sea Trout, Snapper, Grouper, Mackerel, Cobuia
More Fishing Reports: