Fishing Report Miami/Miami Beach, FL - February
Capt. Dave Kostyo
February 2, 2017
Miami - Saltwater Fishing Report

Fished a half day morning charter with Frank and Eric. The goals were to show Eric some offshore fishing action and catch some fish for dinner.
We ran offshore and found a weed line and birds in 450'. Started with trolling two feathers on Penn Spinfisher V 6500 and Conflict 6000 spinning outfits. As we trolled past the first set of working birds, both outfits hooked up to dolphin/mahi. We put one of the two fish in the fish box. No further action with trolling.
Put out the live herring and slow trolled them along the weed line. Hooked up a cow and bull dolphin/mahi. Both those fish made it to the fish box.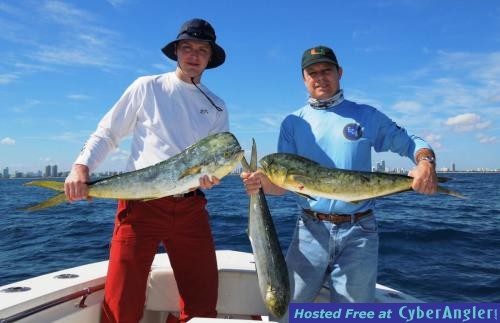 We moved back inshore and dropped on some rough bottom. Lost a fish to the bottom and got cut off by a shark. Set up a drift starting in 175' that produced no action. Another drop on some rough bottom and no action.
We called it a morning and headed back to TNT Marine Center. Several evening fish meals are on the menu for Frank, Eric, and their families.
Captain Dave Kostyo
305-965-9454
nkostyo@bellsouth.net
More Fishing Reports: