Fishing Report Update - Knot Nancy Fishing Charters
Capt. Dave Kostyo
June 27, 2018
Miami - Saltwater Fishing Report

It's been a while since my last report. Since that time I've done several dolphin/mahi trips, tarpon trips, took a ten day vacation, then more dolphin/mahi trips, along with several offshore, and finally a tarpon trip.
The dolphin/mahi season has been OK and we've not had to run to far offshore to find them. The birds, both frigates and sooty terns, have been very helpful in putting us on schools of fish that ranged from just a few to about 25 fish. As of my last few trips, that changed. The birds are searching just like we are. Now it's finding and working large patches to get on the fish.

Move back in to the 100 - 200 foot range and it's been bonito, kingfish, and amberjacks. Trolling the planer outfits has been producing the kingfish. Drifting live bait on the bottom rod has seen mostly bonito action. The downrigger has produced bonito and amberjacks. Dropping on the deeper wrecks has tested my anglers arms and back strength on amberjack.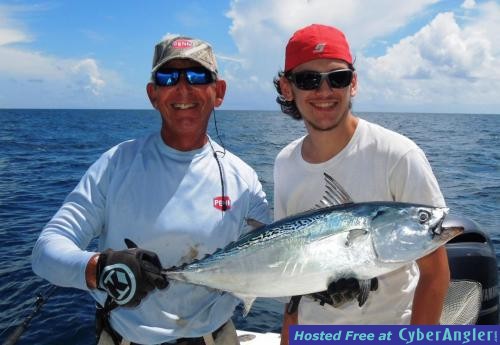 Move inshore during the evening and tarpon is still king. The live crab situation has improved and that makes catching tarpon a whole lot easier.
As we get into the latter part of June and then July, there will be more of the same type of action. Be willing to try different techniques and the rods will bend.
Captain Dave Kostyo
305-965-9454
[email protected]
More Fishing Reports: