Great Deep Sea Fishing Off Miami
Capt. Orlando Muniz
May 16, 2016
Miami - Saltwater Fishing Report

Some say that time flies when you're having fun. If this is true, I must be having a ton of fun because it seems like only a week or two since my last report. April was a fantastic month with some pretty great catches and so far May is off to a great start. Besides the usual sailfish, tuna, and kingfish, we've also been catching a lot of quality bottom fish. I really don't remember ever catching this many grouper and snapper. The action has been so consistent, that we have been bottom fishing whenever the current or water conditions aren't conducive to drift fishing with the kites.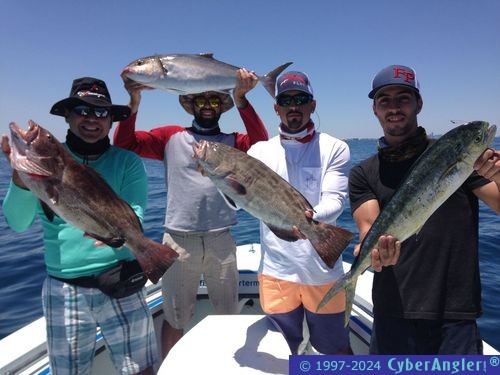 Let's begin with the sailfishing. Unfortunately, we've been encountering a lot of days with green water and little or no current. On some days, we've had south current and its made the sailfish bite pretty spotty. The sails are definitely here in good numbers because we have been seeing a lot of free jumping fish. We have also caught several in the green water making them that much more precious. I'm sure there will be at least one more flurry in the sail fishing at some point this month.
Besides the sails, we are also catching our fair share of king fish and blackfin tuna. Both are being caught on a combination of flat lines, deep lines, and bait dangled from kites. On a recent trip we had both a 25 pound tuna and 20-30 pound kingfish eat the first two bait deployed off the kite. We landed that tuna which bit first but failed to connect with the large kingfish. We ended up boating another kingfish, barracuda, and a sailfish before completing our short morning trip. Other trips have also included very nice kingfish and more tunas.
Even thought the tunas and kings have been fun, the real excitement has been found while bottom fishing the wrecks and rock piles. A combination of amberjack, almaco jacks, gag grouper, black grouper, mutton and genuine red snapper have been providing lots of smiles and bent rods. It is almost like the lack of current and blue water has been a blessing in disguise. I cannot even begin to describe the excitement of seeing a large grouper of snapper rising from the bottom. A lot of the bottom fish we have been catching are in the 15-20 range and although it may not sound like much, remember that we are fishing a major metropolitan area unlike the Florida Keys or Bahamas.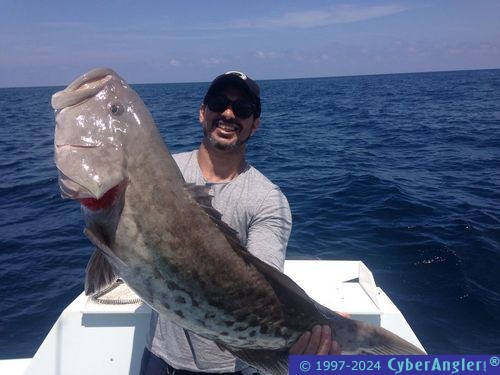 We've got more trips coming up, so I'm sure there will be lots more to report. The weather is starting to feel more and more like summer so I'm sure we'll be switching gears in the next few weeks.
Lastly, I wanted to thank all of those that attended last months seminar at Bass Pro Shops in Miami. We had a good turnout and made some new friends. I will be back at Bass Pro this coming Saturday, May 21st at 3:00 pm. The topic will be "Summer Dolphin Fishing". You can find more information on my FACEBOOK page. If you have any questions please feel free to contact me directly.
We'll that's pretty much it for right now. Also, don't forget that you can keep up with all of the action by following us on FACEBOOK, Instagram, and Twitter. If you like watching some of the action, be sure to check out my YOUTUBE page for the latest video additions.
SPONSORS AND FRIENDS: Mercury Marine, Bass Pro Shops, Offshore Angler, Orca Coolers, SeaDek, Costa Del Mar, Yo-Zuri.
Tight Lines,
Capt. Orlando Muniz
Nomad Fishing Charters
fishingchartermiami.com
786-266-0171
Miami Fishing Forecast:

Fishing should remain strong for at least another month before we fully transition into the summer pattern. Look for more tunas, kingfish, sailfish, and bottom fish in the mix.
Target Species:

tuna sailfish kingfish snapper grouper jacks
More Fishing Reports: