I See your Grouper and Raise you a Mutton
Capt. John Barker
June 4, 2013
Miami - Saltwater Fishing Report

The Blue Waters 2 headed out for a morning half day fishing trip. The pilchards and herring bit well at the radar station, but there was no wind or current for kite fishing. So, changing strategy, Captain John took the boat into clear shallow water with wire line and a drone spoon. As shinny spoon danced around the coral heads in 20' to 30', a keeper-sized grouper slammed the spoon.
The captain kept the boat in gear and the anglers had a workout on their hands. It's obviously much more difficult to fight a fish while the boat is still moving, but the boat's forward momentum also keeps maximum pressure on the fish making it much more difficult for the fish to find bottom again, and increasing the likelihood the grouper will make it to the gaff. After a fierce fight, they're efforts were rewarded with a fine black grouper in the box. Later, two other groupers were caught and released.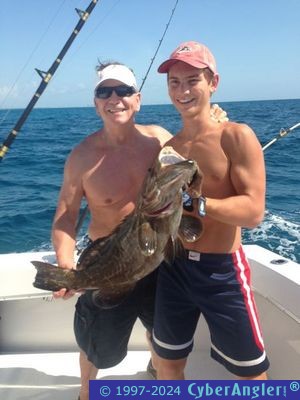 The trip ended with some live baiting off the riggers which produced a nice mutton snapper and several bonitos.
Captain John
www.fishingmiami.net
305-373-5016 (24/7)

Target Species:

Black Grouper and Mutton Snapper
More Fishing Reports: