The Hot South Florida Bite Continues on the "Get Em"
Capt. Alan Sherman
February 4, 2018
Miami - Saltwater Fishing Report

Happy New Year my past, current and future clients. I hope everyone had a great Holiday season and is enjoying the new Year! It has been some time since my last fishing report. So that I don't bore you too much with a long report let me tell you that the fishing in almost every location that I fish has been quite good.
Biscayne Bay has had plenty of action from Spanish mackerel, bluefish, jack crevalles, small kingfish, bluerunners and ladyfish on the surface and a good amount of mangrove, mutton, lane and yellowtail snappers on the bottom. We have also had some gag, black and red groupers in the bay however they have been mostly under size fish that have provided plenty of rod bending action. We are catching these fish with live pilchards fished from under a Cajun Thunder float, free lined or on the bottom. We are also catching fish on Rapala X Raps and Hookup lure jig heads tipped with a Gulp soft plastic. The hooks we are using are Mustad Ultra Point short shank hooks. On some of the warmer days we have had some decent daytime snook action.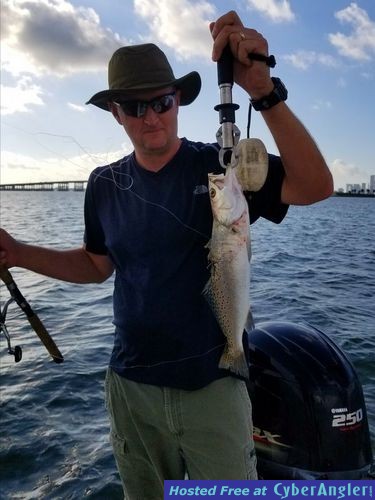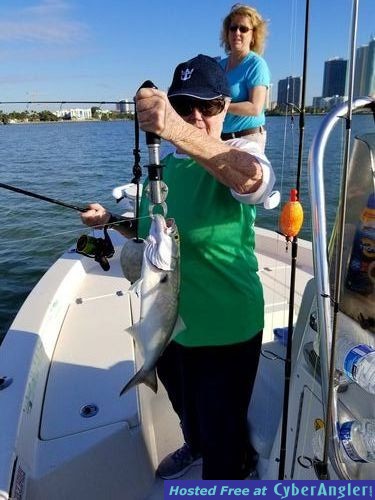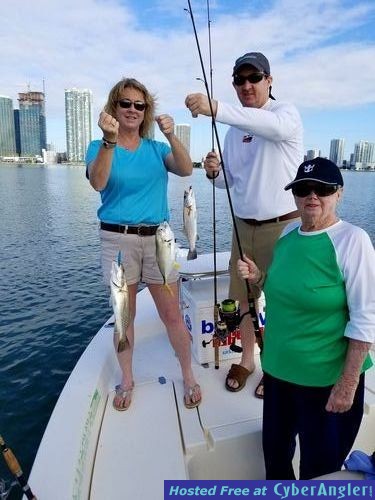 The Offshore fishing for the most part has been slow except for some decent daytime bottom fishing for black groupers. Gag groupers, lesser amberjacks, large Spanish mackerel, mutton, mangrove, lane and yellowtail snappers.

Fishing in Flamingo has been good. The conditions haven't though and that is the key to a successful Flamingo fishing day. When the winds aren't blowing redfish, snook, black drum, sheepshead and sea trout have been biting well. When the winds are blowing the fish have not been cooperating. Offshore in the Gulf tripletail and Spanish mackerel are biting.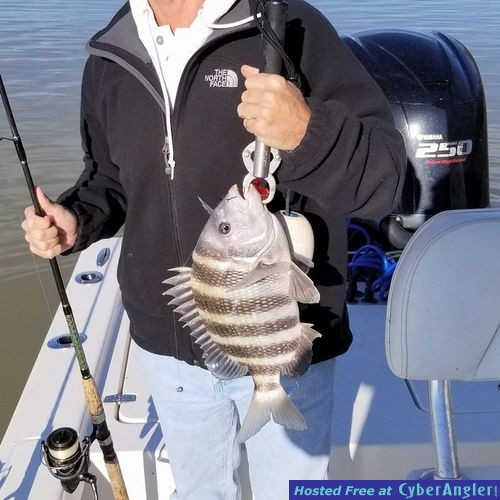 The freshwater fishing for largemouth bass is just getting started. On my last freshwater fishing charter in the Glades the water levels had fallen by at least three feet from where they had been. Once that level falls another a foot or two the fish should be stacked up in the canals and ready to jump on anything thrown close to them. That could happen any day.

The pictures tell the story. During this new year there have been more great days fishing on the "Get Em".
All of these fish were caught using Daiwa and Shimano reels, Key Largo and Daiwa rods, Rapala hard plastics, Cajun Thunder floats, Hookup lure jig heads, Mustad hooks and Wish braided line, PLine monofilament, Aquatic Nutrition Inc, Chum.
If you're interested in any of these species and looking to get out on the water for 4, 6 or 8 hours then give me a call and let's see what we can do!
786-436-2064
Thanks #WoodyWax for getting and keeping my boat shiny and looking new again!
All of these catches were made possible with the use of #DAIWA spinning reels, #KeyLargo spinning rods, #Mustad hooks, #CajunThunder floats, #Rapala artificial lures, #Hookup lures, #Gulp #PureFishing #Mirrolures, #StowMaster Nets, #SaltLife sunglasses, #SoftScience shoes, #ColumbiaSportswear, #ContinentalTrailers, #YamahaOutboards, #BobHewesBoats, #MinnKotaUlterra trolling motors, #Humminbird, #Talon, #AirTight bearings, #Woodywax, Lee Fisher Nets, Ohero, Just4Fishing.com, #AquaticNutritionInc chum #FishMonkey gloves, #HumpBack cast nets and more!
So what are you waiting for? The action is happening now! Best of all I have open dates. Just give me call and let's see what we can do.
Let's set it up today!
e-mail [email protected]
Facebook Get Em Sportfishing Charters (LIKE IT!)
Instagram Capt Alan Sherman
Check out my report in the Florida Sportsman Magazines South Florida Internet Fishing Report
www.floridaspotsman.com), my monthly Action Spotter Fishing Report for the South Region in the Florida Sportsman Magazine each month.
Sponsors:
Yamaha, Bob Hewes Boats, Maverick, Minn Kota, Daiwa, General Motors & Chevrolet, Rapala, Suffix, Trigger X, Mustad, Pure Fishing, Gulp, Berkley, Precision Tackle, Cajun Thunders, Capt. Hank Brown's Hookup Lures, Hydro Glow Lights, Saltwater Assassins, Key Largo Rods, Lee Fisher Cast Nets, Smartshield, Master Repair in Stuart Florida, , Salt Life Sunglasses, Stow Master Nets, Columbia Sports Wear, Tempress Seating, Aluminum Fabricating Inc. Woody Wax, SoftScience shoes, #FishMonkey Gloves, #HumpBack cast nets, #AquaticNutritionInc chum
Capt. Alan Sherman
786-436-2064
www.getemsportfishing.com
FACE BOOK get em sportfishing charters LIKE IT!
Former Field Editor South Florida Fishing Update Miami Herald
Field Editor Action Spotter Report South Region Florida Sportsman Magazine
Field Editor South Region Weekly Fishing Report Florida Sportsman Internet Site
Miami Fishing Forecast:
Miami Fishing Forecast:

Ton's of baitfish are pouring into our Bays and sliding south along our beaches and the hungry predators are going nuts on them. That kind of action will be happening on and off for the next three months. Snook, tatrpon, redfish, sea trout, sharks. ladyfish, jacks, tripletail, cobia, pompano, bluefish, Spanish mackerel, black drum and sheepshead will all be feeding in Flamingo throughout the fall and into the winter.
Target Species:

SNOOK, TARPON, SEA TROUT, REDFISH, TRIPLETAIL, COBIA, SNAPPER, GROUPER, MACKEREl
More Fishing Reports: