Inshore and Offshore Fall Action
Capt. Nick Gonzalez
November 12, 2012
Miami - Saltwater Fishing Report

11/4/2012 Daytime Swordfishing
We got a late start to do some daytime swordfishing. There was a light east wind and we heard a few decent reports so hopes were high. We headed straight out to the grounds and had a line in by 11: 30. There wasn't much current, only about a knot and a half. The first drift didn't produce a hit and ended after we busted off our weight. We had only soaked the bait for about 45 minutes and we moved north to take another drop. At about 1:30, we had just touched bottom and cranked up into the strike zone. Before we could get comfortable, the rod doubled over like we snagged bottom. The fish took off like a freight train and we were tight.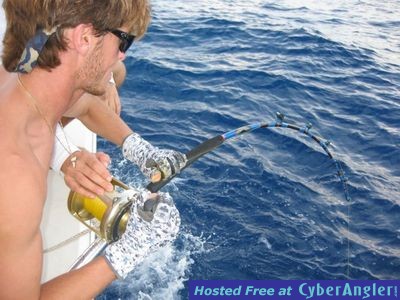 Some strong initial runs showed that this was a big fish. We had 25 pounds of drag on the fish and he wasn't phased… The tug of war lasted 3 hours and we saw the silhouette of a massive fish after getting the wind on through the guides. It wasn't a swordfish, we managed to foul hook about a big thresher shark right behind the gills. We snapped some pictures and got a clean release. Big Eye Thresher sharks really are impressive animals…
We took one last quick drop before sunset. The bait got slashed up but the fish never took the bait. It was definitely a sword… We only fished baits for about an hour and 15 minutes when we weren't hooked up to the thresher. We didn't really have adequate time to put in for swords but the shark was a trophy catch regardless.


Final Tally- 1 Bigeye Thresher Shark
11/9/2012 Kitefishing the Edge
With winds picking up and clocking towards the north, we had high hopes for the morning. It was a chilly november morning–just the ticket for sailfishing. We got out to bug at the crack of dawn but baitfishing was not easy today. We slayed the runners but we caught the tide too early for herring. We managed two small herring and a spanish sardine with 3 dozen runners–not our preferred well full, but it would be suffice. We headed east and in short order we were kite fishing Key Biscayne in 130′. Winds weren't so bad just yet, probably around 12 mph, but the seas were 4-6 and rolling. As the day wore on the seas stacked to solid 6′ with some larger waves thrown in. Unfortunately, the wind remained out of the NW for the majority of the morning, so there was less than a knot of current on the edge. Soon after setting the spread, a big hammerhead shark cruised through, but was uninterested in our baits. After watching him submerge, the right long got clobbered and steve came tight. 10 minutes of battle brought a feisty 4′ reef shark boatside. We reset the long and carried on along an edge in 120′, where things got a little interesting. A lit up sail attacked the right short bait, the spanish sardine, and inhaled it. Captain John dropped to the fish and got our angler hooked up to a feisty little sailfish. As we chased the fish, we dragged our ktie baits looking for a double hookup. A pair of dolphin obliged us as the ate the remaining two right kite baits. Everybody loves Chaos! Well after a short while we got the dolphin boatside just as the sailfish cooperated. After that release, we saw the seas building higher and decided to call it.
11/10/2012 Inshore Biscayne Bay
In the Bay, John had an inshore fishing charter that only had one thing in mind— bending some rods. They didnt care what or how, they just wanted action. So, John lead them to grassflats and finger channels where the group targeted many species with ultralight tackle. Trout, spanish mackerel, mangrove snapper, yellowtail snapper, gag grouper, cudas, sharks and some mystery fish. The group had an absolute blast pulling on different species all day, even with the howling wind.
11/11/2012 Inshore Fishing Flamingo
In Flamingo, the redfish bite has been consistent with other species intercepting baits and lures as well. 14 redfish to 25″, 2 snook and a sheepshead kept rods bent all morning. Fairer weather has made trips to Flamingo more enjoyable because the bugs have slowed down a bit and the area has cooled down.
Miami Fishing Forecast:

Inshore--
Light tackle fishing in Flamingo and Biscayne Bay continues with multiple different species available. In Flamingo, cold weather tends to slow the snook bite, but redfish and trout eat with abandon. Permit, goliath grouper, cobia, snapper and sharks are still consistent and can be caught by fishing bucktail jigs and topwaters, or jighead/bait combos (either shrimp or crabs for the permit). In the Biscayne bay, trout, mackerel, snook, tarpon, permit, and many other species are moving through. Colder weather means the mullet run (which has already begun) and shrimp. When the shrimp start moving thorugh the different cuts and channels, you can bet tarpon, snook, permit, and snapper will be on the feed.
Offshore
Offshore we have begun to see a more natural turn of the seasons compared to past years. Sailfish are being caught with the most likely action right after cold fronts (NE winds). Action on the edge can mean anything from dolphin and sails, to sharks tuna and wahoo. Big dolphin and numbers of sailfish are moving through keeping Kitefishing the number one method of producing. Swordfishing has been productive with many fish being taken both day and night.Fall is definitely a great month to target swords now that they are migrating through the area. Fall action is definitely in full swing.
Target Species:

Snook, Tarpon, Redfish, Seatrout, Sailfish, Dolphin, Wahoo, Cobia, Snapper, Grouper
More Fishing Reports: