Knot Nancy - July Fishing Report - Miami, FL
Capt. Dave Kostyo
July 10, 2016
Miami - Saltwater Fishing Report

The month of June is behind us and saw some outstanding fishing with mahi/dolphin, sailfish, kingfish, blackfin tuna, amberjack, tarpon, and bonito. July has picked up where June left off with a few exceptions.
We began the month with a Family fishing trip. Mom, Dad, and their 2 sons fished for a half day. Dropping live bait on some of the deeper wrecks produced amberjacks aka reef donkeys. Everyone got in on the action to reel the fish in from the depths. The bigger one weighed 31 pounds and the smaller one was 23 pounds. We also caught a bonito.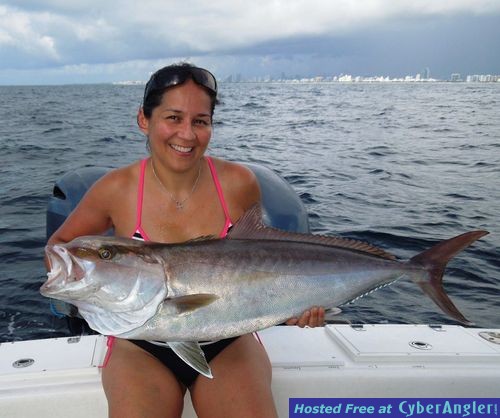 Nick and Yamen also fished a half day and the amberjack's continued to feed. The first one put us to shame by getting back into the wreck and cutting us off. The second one had no such luck and we caught and released it. Moving to another wreck paid off in the form of a 27 pound amberjack. Drifting live baits in some shallower water produced 2 large bonito.
Ted, Soni, and T J fished a 3/4 day trip. We started the trip with trolling planers. It didn't take long before we had two bonito in the fish box. The current was smoking to the north at 4.6 mph and we ran way south to compensate for it. The mid-depth and bottom rod got hit at the same time. It turned out that the greedy 24 pound kingfish ate both baits. On our next drift, the bottom rod doubled over and T J caught and released his first sailfish. Along the way, we added four more bonito to the count. Final tally - 6 bonito (we kept 3), kingfish, and sailfish.
Another half day trip. This time with friends Matt, Santiago, Mike, and Pablo. Trolling the planers produced the first action in the form of a kingfish. A run to the south and out went the live baits as we drifted north. The bottom rod hooked up and we caught a mutton snapper. Ran back to drift over the same area and caught a 13 pound gag grouper. Another pass over the same area and this time we got smoked with the fish getting back in the structure and cutting us off. A quick re-rig and we made another pass. This time we fished a heavier drag and the reel in low gear. It did the trick and we caught a 19 pound black grouper with a piece of our leader hanging out from its mouth. The greedy grouper made a mistake by taking our bait a second time. Finished the morning by moving out to deeper water and catching and releasing a bonito.
Captain Dave Kostyo
305-965-9454
nkostyo@bellsouth.net
More Fishing Reports: