Late January 2017 Fishing Report - Capt Dave Kostyo
Capt. Dave Kostyo
January 28, 2017
Miami - Saltwater Fishing Report

During the past three days the conditions off the Miami/Miami Beach coast have been less than ideal. We've had S/SW wind, green water with south current, green water with no current, and to find a blue edge, we've had to run out to over 700'. Despite these poor conditions, I've managed to produce some good action for my clients.
Tom and Justin fished with me for two (2) days. On day one (1) with green water, south wind, and south current we caught five (5) dolphin/mahi, four (4) amberjack, and one (1) large silky shark.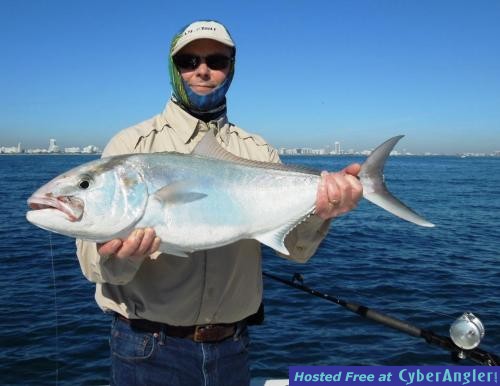 Day two (2) the wind picked up a bit starting in the south and ending in the SW. The water was still green and the current died off to none. Fishing was a little tougher and by day's end we had three (3) mutton snapper, one (1) amberjack, and one (1) hammerhead shark.
The next day was a half day trip with Brandon, Noah, Michael, and Mitch. Green water, no current and SW/W wind were the conditions. We started off dropping on wrecks and caught three (3) amberjacks. Live bait drifting produced no action. We moved offshore a bit and found a weed line in 450'. Slow trolling live pilchards produced a schoolie size dolphin/mahi. We ran back south down the weed line and set up again with slow trolling. At 10 minutes before the end of the trip, we had a double hook up of larger dolphin/mahi. We landed both fish and back at TNT Marine Center, the bull weighed in at 16 pounds and the cow tipped the scale to 23 pounds.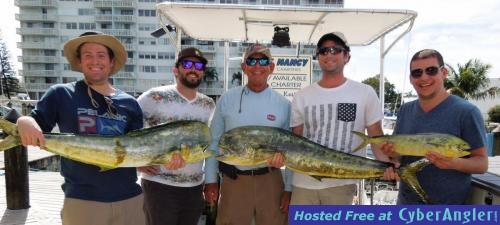 Captain Dave Kostyo
305-965-9454
nkostyo@bellsouth.net
More Fishing Reports: