Late October Fishing Report - Miami/Miami Beach, FL
Capt. Dave Kostyo
October 26, 2016
Miami - Saltwater Fishing Report

Summer vacations are over with for another year. Our first cool front has passed through the area. It's time to take advantage of the good Fall fishing off the Miami/Miami Beach coast.
As I'm writing this report, the wind has been blowing as high as 29 knots with higher gusts. Prior to this present windy weather, I got two productive 3/4 day trips in.
On the first trip we started off with a sailfish catch and release. That was followed by a kingfish on the downrigger. The bottom rod produced next in the form of a shark. The final fish of the trip was a second sailfish. Both sailfish were a first for each angler.
My most recent trip started with a kingfish. Slow trolling two flatline baits back out had us hooked up to a sailfish. After releasing the sail, the kingfish action was steady on each drift. Throw in a rainbow runner as well as a large yellow jack to add to the variety of species caught. Along the way we missed several hook ups, had baits chopped in half, and knocked off the hook. We added 5 more kingfish to the box to finish with 6 total. Plenty of fish for the anglers fish fry the next evening.
So far during this early Fall period, the kingfish action has been the best I've seen in many years. With each front that will pass through, the overall action should get better and better.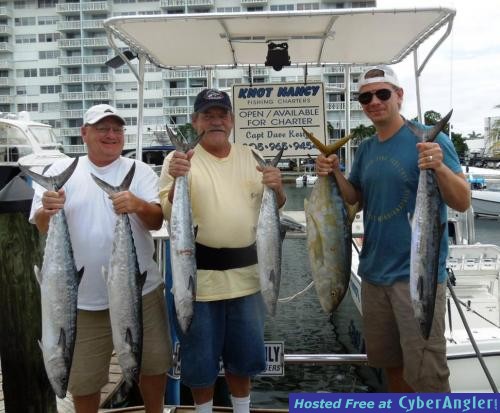 Captain Dave Kostyo
305-965-9454
nkostyo@bellsouth.net
More Fishing Reports: