Lots of Variety Inshore, Snook in Flamingo and Dolphins Offshore
Capt. Alan Sherman
June 11, 2016
Miami - Saltwater Fishing Report

Things are really heating up in South Florida. Besides having two tropical systems within a week of each other the summer late afternoon rains are setting in early this year. With the tropical systems out of the way at least for now most of the rain and thunderstorms will form over the eastern Everglades and late in the afternoon push towards the east and the beaches. On most days they will not be an issue for fishing in Flamingo, North Bay or even in the ocean because they have a tendency to fall apart as they head east.
Recently the fishing in Biscayne Bay has been surprisingly good. Typically when it heats up in the summer Biscayne Bay is mostly an early morning fishery but not right now. On recent trips in the bay we have had as many as 13 or 14 different species caught. Small groups of baitfish are being attacked by juvenile kingfish, Spanish mackerel, small cobia, bluerunners, barracudas, senates, jacks, big ladyfish and sea trout. In other parts of the bay there have been bull sharks, blacktip sharks, tarpon, mutton snappers, porgies and snook. At times the fish have been so aggressive that we were catching them on every cast using Rapala X Rap or Twitchin Raps. Lots of double hookups!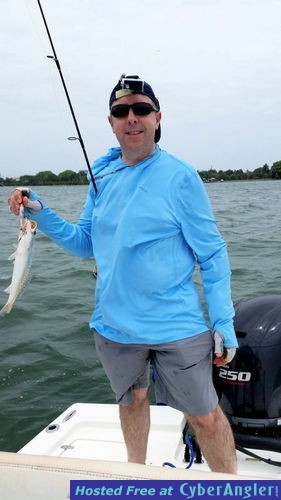 Offshore the dophin fish fishing is picking up. It was tough for a few weeks but much better since the tropical systems have moved on. On one day I fought a dolphin that I estimated to be over 30 pound for almost an hour only to have the fish break the leader as I was trying to gaff it. That fish was tough and deserved to live another day. We have had catches of bonitos, kingfish, cero mackerel, barracudas and mutton snappers and porgies.
In Flamingo the weather was real bad but now things are settling down and the fishing is red hot. Spawning snook are all over the coast and these fish are eating live baits and artificial lures. A few redfish and tarpon are mixed in with the snook. Over the grass flats and in the channels keeper size mangrove snappers and sea trout are easy to catch. Free floating tripletail are also being caught on the calmer days.
If you're interested in any of these species and looking to get out on the water for 4, 6 or 8 hours then give me a call and let's see what we can do!
So there you have it. Be flexible as to where you fish and you are sure to get in on the action.
Thanks #WoodyWax for getting my boat shiny and looking new again!


All of these catches were made possible with the use of #Daiwa spinning reels, #KeyLargo spinning rods, #Mustad hooks, #CajunThunder floats, #Rapala artificial lures, #Hookup lures, #Mirrolures, #StowMaster Nets, #SaltLife sunglasses, #SoftScience shoes, #ColumbiaSportswear, #ContinentalTrailers, #YamahaOutboards, #BobHewesBoats, #MinnKotaUlterra trolling motors, #Humminbird, #Talon, #AirTight bearings, #Woodywax and more!
So what are you waiting for? The action is happening now! Best of all I have open dates. Just give me call and let's see what we can do.
Let's set it up today!
www.getemsportfishing.com,
e-mail shermana@bellsouth.net
Facebook Get Em Sportfishing Charters (LIKE IT!)
Instagram Capt Alan Sherman
Check out my report in the Miami Herald's Sports section under Fishing Updates each Thursday, the Florida Sportsman Magazines South Florida Internet Fishing Report
www.floridaspotsman.com), my monthly Action Spotter Fishing Report for the South Region in the Florida Sportsman Magazine each month.
Sponsors:
Yamaha, Bob Hewes Boats, Maverick, Minn Kota, Daiwa, General Motors & Chevrolet, Rapala, Suffix, Trigger X, Mustad, Pure Fishing, Gulp, Berkley, Precision Tackle, Cajun Thunders, Capt. Hank Brown's Hookup Lures, Hydro Glow Lights, Saltwater Assassins, Key Largo Rods, Lee Fisher Cast Nets, Smartshield, Master Repair in Stuart Florida, , Salt Life Sunglasses, Stow Master Nets, Columbia Sports Wear, Tempress Seating, Aluminum Fabricating Inc. Woody Wax,
Miami Fishing Forecast:

Miami Fishing Forecast:
Summer is here and the fishing in South Florida is about to explode. With water temperatures rising sea trout and snook will start their spawning seasons. Bigger fish and bigger numbers of fish! Spanish mackerel, bluefish and kingfish are heading north for the summer. As they pass the Miami area they always provide a months' worth of action. Big jack crevalles will be chasing baitfish schools in North Bay and big tarpon will be stealing baits intended for other fish. Offshore we will see kingfish and Spanish mackerel, bonitos, sailfish, dolphins and blackfin tuna feeding right alongside each other. In Flamingo in Everglades National Park the birds will be leaving but the scenery will always be there and there is always the unbelievable sunrise and sunset pictures. Fishing for snook, redfish, snapper, sea trout, tarpon, jacks ladyfish, sharks, tripletail, cobia and more will be as exciting light tackle fishing as one could wish for.
Target Species:

Snook, Tarpon, Redfish, Sea Trout, Dolphin, Sailfish, Cobia, Mackerel, Shark, Tripletail, Grouper, Snapper
More Fishing Reports: